Chancellor will aim to boost demand and free public land but industry warned not to expect 'game changer'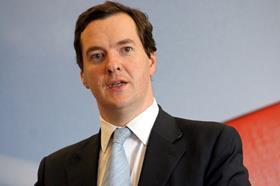 Chancellor George Osborne will outline measures to boost housing demand and the release of public sector land in next week's Budget, according to housing minister Mark Prisk.
Speaking to Building this week, Prisk said that Osborne would stress the need to bring forward the release of public sector land for housing development and outline "demand-side" measures to boost the sector. Prisk said: "We've already released enough land for 33,000 homes. The chancellor understands how we need to bring forward this public land release, and will have more to say on this next week. There will also be more on demand [-side measures]."
Prisk also indicated that the Budget would include more detail on the role the Homes and Communities Agency will play in helping government release enough land for 100,000 homes by 2015. It is expected that the demand-side measures will include an extension to its NewBuy mortgage indemnity scheme, which is set to run out in May 2015. The Home Builders Federation has called for a three-year extension to the scheme.
Noble Francis, economics director at the Construction Products Association, said it was "likely" there would be an extension of NewBuy. "The chancellor said it would help 100,000 home sales but if you look at the latest statistics it's only done 1,500. It has not succeeded as the government wants it to," he said.
But Francis said he expected a "constrained" Budget, pointing out that the autumn statement was held on 5 December and a comprehensive spending review was due this summer, meaning there was little room for new announcements in the Budget.
"If the industry is expecting a game changer it is going to be disappointed," he said.
Other likely demand-side measures are a beefing up of the government's Funding for Lending scheme, which many housebuilders believe has acted to make mortgages more affordable.
The industry sources also said they were expecting the government to bring forward spending on road projects that had been scheduled for 2014 and beyond. But there is little prospect of a major change of course from the government's refusal to countenance extra borrowing to fund capital investment.
On Monday the CBI called for a "modest package of measures" worth £2.2bn to fund housebuilding and infrastructure schemes, with the money culled from departmental efficiencies and asset sales. The CBI also called for a VAT cut on refurbishments, but stressed the importance of a fiscally neutral budget.