Contractor suing supply chain for £47m over alleged defects in Woolwich Tesco scheme
The outcome of a legal battle over allegedly defective cladding on a mixed-use scheme in Woolwich could trigger a wave of similar litigation, construction lawyers have said.
At the beginning of the year, Willmott Dixon filed a suit against its supply chain on the Woolwich Central job in an effort to recoup £47m worth of remedial costs that followed the contractor's settlement with the client, Tesco, last April.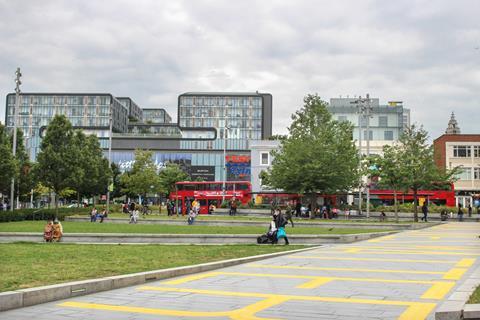 The co-defendants in the case – which include building envelope specialist Prater Ltd and its parent company Lindner Exteriors, architect Sheppard Robson, AIS surveyors and Aecom – have each set out their own view of where responsibility lies.
While this is not the first cladding case to emerge in the wake of the Grenfell Tower Inquiry, construction lawyers say the profile of the firms involved means it could set the tone for similar disputes going forward.
"There have been important cladding cases before, just not involving so many big names – Willmott Dixon, Tesco, Aecom, these are well-known businesses," said John Wallace, director at Ridgemont.
"Everyone is blaming each other and it's a question of who is going to be left holding the baby," he said.
While Aecom's lawyers said all of the firm's co-defendants bear some responsibility, Prater and Lindner single out Willmott Dixon and Sheppard Robson, the latter of which claims that Prater was "exclusively" responsible.
"The interesting question is who is going to be held liable – will it be more than one defendant and if so, what will the contributions be?" said Wallace, adding that a judgment in favour of Willmott Dixon could inspire other contractors to pursue their supply chain.
Theresa Mohammed, partner at Watson Farley & Williams, said the huge public and political pressure surrounding flammable cladding may have paved the way for a more litigious environment, with contractors willing to accept the hit on remedial costs and subsequently attempting to recover them by legal means.
"[Contractors] won't want to be associated with an unsafe building […] particularly because of all the [secretary of state Michael] Gove announcements and the ramping up of the pressure and the stringent deadlines," she said.
While Mohammed said the pressure to fix defects immediately was "good", she added that it could "prompt a lot of litigation".
"Before they have actually unravelled and assessed who is at fault, they are going to have to do all the remedial work, spend the money and sue," she said.
Whether Willmott Dixon wins or not, the impact on the sector will be significant, Mohammed said.
"Every case like this is influential," she added. "Every judgment likes to preface itself by saying it is fact-dependent and contract-dependent but a lot of the sector use the same suites of standard forms and a lot of the sector use very similar amendments to the standard forms," she said.
"If big contractors like Willmott Dixon get found liable for £47m worth of damages, that is going to send a ricochet through the sector and it will prompt a lot of contractors to behave differently, which might mean that they settle their claims earlier."
Last month, Lendlease made a AUS$200m provision to cover the cost of cladding repair work as ordered by the government on residential schemes 11m and above, most of which it said related to its former Crosby Homes business which it now no longer owns.
The figure, equivalent to around £115m, was revealed in its latest interim accounts and Lendlease said the number "does not include anticipated recoveries from third parties, including insurances and supply chain. We will be working to maximise third party recoveries."
And Morgan Sindall confirmed last month it was making a £49m provision to carry out cladding repair work required by government legislation. In its results the firm said the amount "does not include the benefit of any potential income subsequently received for recoveries from third parties".