Latest IHS Markit/CIPS activity survey finds even housebuilding growth slowed in May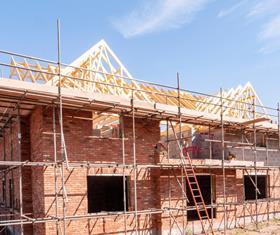 Construction saw its sharpest decline in output for over a year last month, with commerical and civil engineering leading the slump, according to the latest IHS Markit/CIPS construction survey.
The UK Construction total activity index dipped back below the "no change" 50 score again in May to register 48.6 – signalling a contraction – driven by biggest fall in commercial output since September 2017.
While housebuilding held its own, growth across the sector was at its weakest for three months.
IHS Markit/CIPS said commercial respondents to its survey had reported clients opting to delay major spending decisions as Brexit uncertainty continued, as well as overall concerns about the state of the UK economy.
Civil engineering activity also fell for the fourth consecutive month.
And optimism levels also fell to their lowest point since October last year, with firms blaming "domestic and political uncertainty [which] would dampen business activity growth over the next 12 months".
Duncan Brock, CIPS director, said the "previously unshakeable housing sector barely kept its head above water" during last month.
"Policymakers will need to pull a large rabbit out of the hat, and fast, to improve these difficult conditions and prevent a further entrenchment of gloom and contraction this summer," he added.
Mark Robinson, Scape Group chief executive, warned a lack of clarity over the government's future leadership is "hurtling us into uncertainty. We thought progress in infrastructure and safeguarding the future of the construction industry was a low priority before. It will be even further from ministers' minds now.
"The only way to increase confidence is to treat today's economic and political climate as the new normal," he added. "That means we need to get on with the business of building. Firms should take advantage of the easing of raw material costs, where inflation is at its weakest since September 2016, while they can and press ahead with planned projects.
"Only then can we ensure that this weak period for the sector does not turn into a prolonged and painful slump."
Jonathan White, UK head of infrastructure, building and construction at KPMG, said the sector was "relying heavily on housebuilding to drive growth.
"The steady stream of infrastructure work across the UK had strengthened order books – and buoyed confidence – but there is a clear sense that the market is slowing down in the commercial sector as the Brexit impasse puts a halt on decision-making.
"The problem is that when the industry struggles, its structural issues become even more evident. Operating margins are still stubbornly low and this makes the investment needed to improve productivity even less likely."