Blake Morgan warns of liability risk following Network Rail decision earlier this month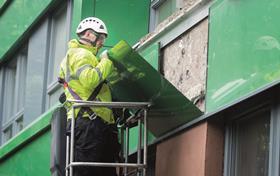 A construction lawyer is warning that occupiers of buildings with combustible polyethylene cladding may find legal letters arriving on their doormats from tenants of neighbouring buildings.
Writing in this week's Building magazine, James Bessey, partner in law firm Blake Morgan's construction team, said: "Damage is not always an essential requirement of a cause of action. If the cladding is defective and is a potential nuisance to a nearby property, there could be a liability."
If such a case was brought, it would be those with primary responsibility over the property – usually owners or occupiers – that would be liable, Bessey added.
Oxford-based Bessey said the volume of claims of this nature would depend on the how many owners or occupiers of buildings with combustible cladding panels resist expensive remedial works.
He said in the case of neighbours with combustible polyethylene cladding, owners may claim their properties have depreciated in value, or that the increased risk of damage infringes on their enjoyment of their property.
He said a case earlier this month involving Network Rail and two bungalow owners in Maesteg, south Wales, involving the invasive plant Japanese knotweed could pave the way for liability claims.
Network Rail was found guilty of private nuisance after having facilitated the spread of Japanese knotweed into Stephen Williams' and Robin Waistell's properties.
The network operator appealed an earlier decision by Cardiff county court which found that it had failed to prevent the weed's spread, which "interfered with the quiet enjoyment" of Williams' and Waistell's properties – even though no damage had been done. But the Appeal Court in London upheld the original decision.