House builder says industry took general election 'in its stride'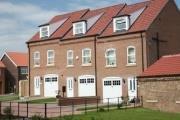 Persimmon has issued an upbeat trading statement saying the housing market has shrugged off any jitters caused by last month's general election.
The house builder said it had increased completions in the first six months of this year by 8% to 7,794 homes while it had hiked its average selling price up 3.5% to £213,000.
It added: "We have continued to experience good levels of customer demand since the Group's AGM trading update on 27 April 2017, with the market taking the snap UK General Election in its stride. Consumer confidence remains resilient and compelling mortgage rates continue to offer good support to new home buyers."
The firm, which said it has total forward order sales of £1.6bn, up from £1.36bn last time, said sales through May and June – when election campaigning was its height – were "healthy" and added that the group's operating margins will "comfortably exceed the 25.7% delivered in the second half of the prior year".
Cenkos analyst Kevin Cammack said: "We are getting to that stage of the cycle where the men start to stand out from the boys – and Persimmon is firmly in the men camp if the pre-close is anything to go by."
Persimmon said it intends to hand shareholders £2.85bn by 2021 – an increase of 49% on the sum it said it would return when it launched the initiative back in 2012.
The firm will unveil its interim results for the six months to June on August 22.