The housebuilder has reported bumper results and an increase in its Capital Return Plan to shareholders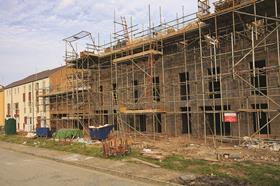 Persimmon has announced a 35% jump in pre-tax profit for 2015 to £629m, up from £467m for 2014 ,on the back of a "confident housing market" in the UK.
The housebuilder also posted an increase in revenue for 2015 to £2.9bn, up from £2.6bn the previous year.
The group announced that it plans to increase its Capital Return Plan to shareholders after exceeding expectations since its launch in 2012.
To date a total of £733m or £2.40 per share of excess capital has been returned to shareholders.
Persimmon is now looking to return £860m, or £2.80 per share, up to 2021, meaning the total value of the plan will be increased to £2.8bn, or £9 per share - a 45%% increase on the original plan of £1.9bn or £6.20 per share.
The group added that it intended to make "significant" new land investments in the coming year to support further growth of its regional businesses.
Persimmon Chairman Nicholas Wrigley said the group was in a "strong position" to deliver further growth in 2016 following on from an "outstanding performance" in 2015.
However, the group warned that current global economic issues may mean "more modest" growth in the UK growth than initially projected, but expects that subdued inflationary pressures may postpone any increase in interest rates for the time being.
The main challenges for the industry in growing output lay with being able to open new sites as swiftly as possible and constraints on skilled labour, Persimmon said.
The group opened 250 new sites in 2015, but its site network remained static at 380 and said it was "convinced" that there was opportunity to improve the efficiency of the planning system.
The successful implementation by 2017 of the five year plans to satisfy local housing needs required of each local planning authority by the National Planning Policy Framework will provide additional land supply, but this land needs to be allowed to flow into development as promptly as possible, Persimmon added.