James Review adds to pressure for pilot savings project to be extended to education contracts
Up to 150 current PFI school contracts could face a review aimed at cutting costs if a test case in the healthcare sector is successful, Building understands.
The news comes a week after a team led by Sebastian James published its long-awaited review into schools procurement. The future of PFI in schools procurement was not explicitly addressed in the report, which made a series of widely anticipated recommendations. These included the need for standardised designs for school components, a central body responsible for schools procurement above a certain level, and the creation of several new national frameworks for schools work.
The review said that "an early priority" should be to identify ways of cutting more costs from current Building Schools for the Future and academy projects.
However, existing academy contracts have already been subject to an extensive review that reduced costs by around £1bn. According to those close to the process, the only way significant further savings would be achieved would be if PFI school contracts were reviewed.
Although a review of PFI in schools has not been commissioned, officials expect that if a current pilot review in the healthcare sector of the Queen's Hospital PFI in Romford is successful, the education department will come under pressure from the Treasury to adopt a similar, and wide-ranging, exercise in education. The James Review's emphasis on reducing the cost of the existing pipeline of schools work will add to that pressure, according to sources. This could affect the overall value of PFI deals under construction as well as those now in the FM phase.
Meanwhile, it is understood that officials are considering establishing regional frameworks for parts of school building work, including maintenance, after the James Review provoked fears that SMEs would be excluded from schools procurement.
Although James insisted that local authorities would still be able to appoint local contractors to carry out small scale works if they could "match the terms of a national deal", the emphasis on national frameworks has led to concern that SMEs could be cut out of work.
However, it is understood that government officials are still examining the possibility of establishing regional frameworks in some areas, including maintenance. The government is expected to issue its initial response in about a month's time, with this followed by a wider consultation on some aspects of the review.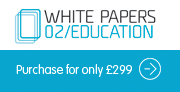 Following the government's response to the James Review. The 60 page report includes analysis of proposed procurement, design and regulatory changes as well as local authorities with the biggest shortage of school places and much more