Mixed use development escapes call-in by communities secretary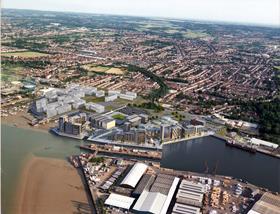 Peel Land & Property's £650m plans to transform Chatham Docks into a 1.9 million ft2 mixed-use development have cleared another crucial stp, eafter communities secretary Eric Pickles approved outline proposals for the scheme, and decided not to call in the development for further scrutiny.
The move means work could start on site next year.
Included in the Chatham Waters plans, which Medway Council approved earlier this year, are offices, an education facility, a conference centre, a hotel, apartments and townhouses, and a food store.
Peel estimates the development could create some 3,500 jobs.
Development director James Whittaker said the firm was delighted the scheme had been passed by Pickles.
"Our proposals will regenerate and breathe new life into a significant area of the dockland and give the region a real economic boost," he said.

"We have started to prepare detailed plans for the first phase and we hope to start building on the site next year," he said.

Medway leader Rodney Chambers the decision was a major step forward for the borough's regeneration.

"Not only will it create thousands of jobs for residents in the near future, but it will provide opportunities for future growth and unrivalled facilities for residents and visitors alike to enjoy and benefit from," he said.

Peel said it was working with Indigo Planning, Planit Intelligent Environments, the Traffic Transport & Highway Consultancy, and 5 Plus Architects on Chatham Waters.