Decision takes axe to 2.2m Green Deals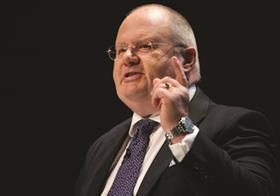 The government has officially ditched plans to require homeowners to upgrade the energy performance of their homes when making improvements, in a move set to cut the take-up up of its flagship Green Deal policy.
The proposed changes to Part L of the Building Regulations - known as consequential improvements - would have introduced a requirement on home owners to make improvements to the energy efficiency of their homes when carrying out extensions.
As Building reported in September, officials at the Department for Communities and Local Government estimated the change would have generated an extra 2.2m Green Deals.
The proposal sparked a media storm with some newspapers dubbing it a "conservatory tax". Number Ten subsequently moved to block the proposals.
However, in September energy secretary Ed Davey said a scaled back version of the plans remained under consideration.
But yesterday communities secretary Eric Pickles said he had dropped the plans. He said: "Having consulted carefully, the government has noted the potential danger that introducing consequential improvements would, in fact, discourage people from undertaking home improvements.
"This measure ensures that it will remain straightforward for hard-working homeowners to undertake small-scale home improvements and conservatories."
Pickles pointed to research on the proposals by the Energy Savings Trust that showed that 38% of households would be put off doing home improvements if the requirement to undertake consequential improvements was in place.
However, the same research also showed that 76% of homeowners thought the plans were reasonable if Green Deal finance could be used to cover the costs.
Sustainability expert David Strong said most observers felt the Green Deal for domestic properties was "dead in the water" without consequential improvements.
"The litmus test regarding government's seriousness in reducing energy consumption in buildings, was their willingness to introduce consequential improvements in housing and display energy certificates in commercial buildings. They have decided to do neither –this speaks volumes about the government's lack of ambition," he said.
John Alker, director of policy at the UK Green Building Council, said he found the government's decision "hugely disappointing".
"Government is simply running scared of negative headlines, when it should be showing leadership on what is an absolute no-brainer," he added.
Andrew Warren, director of the Association for the Conservation of Energy, said: "This decision is bad for the economy. It is bad for jobs. It is bad for the environment.
"But it is an undoubted triumph for the Daily Mail, whose campaign on the 'conservatory tax' has led to this foolish volte face."
But Brian Berry, chief executive of the Federation of Master Builders, said the government was "absolutely right" to scrap the plans.
"Any additional cost such as consequential improvements to a building project can kill off future work at a time when it is needed most in the building industry," he added.