Communities secretary told to change course on consequential improvements or face legal action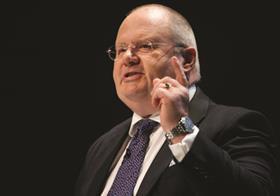 Communities secretary Eric Pickles has been threatened with a judicial review of his decision to scrap the so-called "conservatory tax" unless he reinstates the policy.
The Association for the Conservation of Energy (ACE) said it had taken legal advice that Pickles' reasoning in his decision to scrap the proposed changes to Part L of the building regulations, known as consequential improvements, may have been flawed.
ACE said it would apply for a judicial review after 11 February unless the government reversed the decision.
Pickles announced last December that the government would not be implementing the Part L proposals, which would have required homeowners to improve the energy efficiency of their property through the Green Deal when carrying out other home improvements.
The proposals had been consulted on at the beginning of 2012, but caused a media storm with some newspapers dubbing them a "conservatory tax", despite the measures not applying to the vast majority of conservatories.
Number 10 subsequently moved to block the proposals, before Pickles announced the plan had been scrapped.
Implementing the proposed changes to Part L is a key part of Building's Green for Growth campaign. As Building reported in September, officials at the Department for Communities and Local Government (DCLG) have estimated the change would have generated an extra 2.2m Green Deals.
Andrew Warren, director of ACE, said Pickles' decision was "appalling governance" and "too perverse to remain unchallenged". "There is no explanation whatsoever for Mr. Pickles' change of heart. Apart from his formal statement on 13 December, we cannot tell why he has decided to reject a scheme, which, less than a year earlier, he was recommending so strongly," he said.
"Even though he had demonstrated it to be good for the economy. Good for the environment. Good for the Green Deal. Essentially, good governance."
ACE also said Pickles had chosen to ignore the results of the government's consultation on the proposals, which showed 82% of people were in favour of the policy
Instead, DCLG refered to two reports by the Energy Savings Trust and consultant Aecom, which it said "indicated that over a third of households would be put off from doing home improvements if they had to undertake consequential improvements as well".
But ACE said this "distort[ed] the research evidence, and in both cases misrepresent[s] the conclusions reached".