Ecobuild latest: Berkeley boss also warns of 'massive' impact of potential Brexit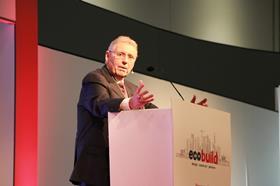 The boss of one of the country's biggest volume housing firms said the government should require a fixed level of "affordable" housing in every development if it wants to tackle the housing crisis.
Berkeley Group chairman Tony Pidgley said if ministers insisted on a 30% blanket rule developers would just get on with it.
"The day the government stands up and sets the level, then developers would adjust accordingly," he told the Ecobuild conference at ExCel in London, which is owned by UBM, publisher of Building. "If the government sets the level at 30% developers will respond," he added.
The veteran housebuilder also called for affordable rents to be linked to the average income of a local area and allow the industry to "work around it".
Pidgley, whose firm Berkeley Group builds about 4,000 homes a year, warned he believed a vote for 'Brexit' at the EU referendum in June would make "a massive difference" to Berkeley due to the large number of EU workers in its supply chain.
He said: "I'm very British and I believe in Britain and I like to buy British. But 50% of our 14,000 subbies are from Eastern Europe. [A Brexit] would make a massive difference."
Speaking exclusively to Building after the Ecobuild debate, Pidgley attacked Chancellor George Osborne's move to raise stamp duty on high value properties, arguing it would put off international buyers.
He said: "At the end of the day the Chancellor's wrong on stamp duty – we are an international city that's either open for business or closed for business. Driving out rich Arabs, or rich oligarchs, is not the answer to this."
He declined to comment on reports investors are shorting Berkeley shares amid concerns the London property market has peaked.
He said: "My job is not to worry about that, my job is to run Berkeley and to make sure its balance sheet can deliver to my shareholders."
Pidgley also took aim at City Hall's London Design Guide for housing standards, arguing: "Let's have the discussion about space. I think you'll find that for most people an 11ft2 lounge is fine, with a separate bedroom that's 10x10 or 10x12 – we only want common sense."
Berkeley's high-profile projects including Simpson & Haugh's One Blackfriars, DSDHA's Abell and Cleland Houses and Squire's One Tower Bridge flats, all in central London.
Pidgley, who picked up a £23.3 million pay package in 2014, said a blanket rule would give developers some certainty about their obligations where currently every local authority demands a different level of "affordable" housing.
His comments come as developers have recently been criticised for using viability assessments to try to dodge "affordable" housing requirements.
'How the hell do you start?'
Housebuilding veteran Tony Pidgley has said red tape and high costs would have prevented him from making it in the housing sector if he had started out today.
Pidgley, who founded Berkeley in 1976, told Building at the Ecobuild conference in London that it was now much harder for entrepreneurs to break into the industry.
He said: "How does a small SME get in? The banks won't lend him money, he's got a nine month planning process, 12 months in most cases. He's got to pay fees for planners to talk to him and that still gives him no guarantees.
"Where's he going to find the money? It's OK with a big balance sheet like we have. But if you leave college tomorrow – I left school under-educated and decided to build a housebuilder. You can't do that now.
Pidgley urged the government to reduce the barriers to entry for small builders: "How the hell do you start? The hurdles, the jump rates, are so much bigger. The average planning application costs us three quarter of a million pounds. It's not the same now and the government needs to address it."