Two piling drills pierce through train tunnel leaving train driver shaken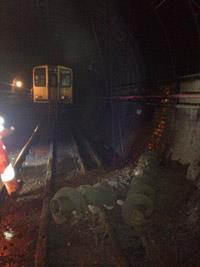 A London train driver was forced to take evasive action after two large piling drills from a construction site above ground pierced through the underground tunnel wall on Friday.
Train operator First Capital Connect (FCC) said the incident occurred on Friday morning, when two large piling drills came through the tunnel wall of the Moorgate to Finsbury Park Northern City Line.
FCC said a train driver had first spotted muddy water pouring on to the roof of his train north of Old Street station and made a point of reporting it, with all rail services then stopped.
FCC then sent an empty train down the line to examine the situation, and as the train approached the area at low speed, two large piling drills came through the skin of the tunnel. The train stopped in time but the driver was shaken, FCC said.
FCC said British Transport Police visited an office construction site above the line and the Rail Accident Investigation Branch was been notified.
Network Rail said specialist tunnelling contractors had been sent to the scene to assess the damage.
FCC Managing Director Neal Lawson said: "This is a serious incident that could have ended very differently had it not been for the vigilance and prompt reporting and actions of our drivers.
"We carry two million people a year on the Northern City Line and whoever is responsible for this must be held to account.
Phil Verster, Network Rail route managing director, said: "Our engineers are on site assessing the damage and we will restore the railway as soon as possible."