Future Homes Commission says housebuilding can be trebled without extra government funding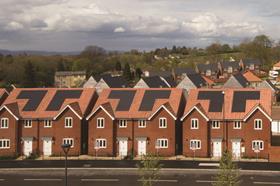 A three-fold increase in housebuilding levels is possible with changes to funding, design and marketing of homes, a report commissioned by the RIBA has found.
The RIBA Future Homes Commission, chaired by businessman Sir John Banham, has concluded it is possible to increase housebuilding levels to 300,000 a year without extra government spending.
The report, set to be published today, says housebuilding has averaged 150,000 units a year between 1990 and 2011and is now around 100,000 units a year.
'It's time to kick-start a housing revolution' - read Sir John Banhan on the Future Homes Commission report here
But it says the potential exists to increase the number of units to 300,000 a year with half of the homes being made available on the open market and half being sold for private rental or social housing.
As previously predicted by Building, the report says funding for housing could come from a £10bn fund generated by pooling 15% of assets from the top 15 local authority pension funds.
However, it adds that the design quality of new homes needs to improve.
The report says: "The quality of many new homes is so poor that people would far rather have a century-old home […] They [consumers] suffer from limited choice and the marketing of new homes often lacks the transparent, comprehensive information that consumers are entitled to expect before making one of the most important financial decisions of their lives."
The commission has voiced concern that there appears to be little research on what consumers wanted from housing and what research there is points to a desire for good design and greater space.
It recommends that there be a national baseline standard for internal floor and storage space to allow a more level playing field for competition.
It says online comparison tools need to be available for metrics such as space and energy usage to encourage people to consider these when buying property.
Angela Brady, RIBA president, said: "We support the need for greater collaboration between all parties involved in delivering housing in the UK and will be looking in detail at the commission's recommendations to ensure we play an active part in the housing revolution."
Stewart Baseley, executive chair of the Home Builders Federation said he backed innovations in funding to drive an expansion in housebuilding.
But he contested the report's claim that people were not happy with the new homes on offer. He said: "Surveys show that the people actually buying today's new homes have extremely high satisfaction levels and the industry is continually looking at ways to drive standards of customer care up still further."
Matt Bell, spokesperson for housbuilder Berkely Group added: "It's good partners that unlock delivery and generate good design. This report demonstrates how that can happen much more often on the ground."

RIBA Future Homes Commission – key points
Increasing housebuilding to 300,000 homes a year is possible without additional government funding
£10bn of funding from local authority pension funds should be channeled through a new Local Housing Development Fund
New homes should have a greater design focus to meet residents needs
More reliable comprehensive information should be made available to customers on space and energy use
Councils should use new powers under the Localism Act to shape sustainable communities and ensure a return on public investments
For more on private rent click here
For more on private rent click here