Rolfe Judd's 41-storey Marsh Wall tower recommended for approval
Rolfe Judd-designed proposals for a 41-storey tower at Canary Wharf in east London are being recommended for approval by Tower Hamlets councillors.
The current plans for 54 Marsh Wall would deliver 216 apartments between the main tower and a linked 16-storey sister block, with an additional 176 sq metres of space for food, retail or business use.
At present the 0.2 ha site houses a three-storey building with a bank on the ground floor and office space above.
An earlier version of the scheme proposing 240 units across joined twin towers of 39 and 29 stories was submitted in 2014 but subsequently withdrawn.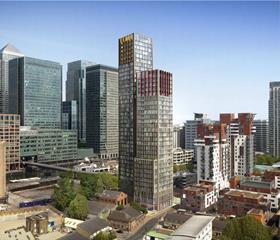 A report on behalf of then-London Mayor Boris Johnson warned that the proposals – drawn up for developer Daejan – did not accord with key London Plan policies on a range of issues, including affordable housing levels, inclusive design, and the provision of public open space.
Recommending the new scheme for approval at tomorrow night's Strategic Development Committee meeting, Tower Hamlets planning officers said the current scheme was "appropriate" for the location, and would optimise the use of the land in accordance with the borough's development plan policies.
The report said the scheme delivered 36% affordable housing, as measured by habitable rooms.
Because of the size of the development, the proposals will be submitted to London mayor Sadiq Khan for final approval.