Firms working on proposals include Lendlease, AHMM and Aecom
A team featuring Lendlease, Homes England, the Greater London Authority and affordable housing firm The Guinness Partnership have submitted plans for 6,500 homes at the Silvertown site in east London.
The vast 50-acre development, one of the capital's largest regeneration zones, is centred around a restoration of the landmark Millennium Mills building, which has been left derelict and mostly disused for around 40 years.
Nearly 800,000 sq ft of work and creative space will be housed in the building and a surrounding employment quarter.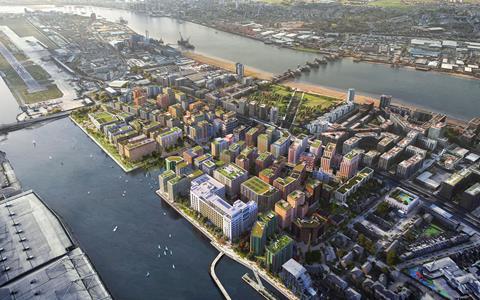 The historic dockside site will contain more than five acres of water in the form of canal ways, with the plans including new bridges and a paddle board club. Half of the homes will be affordable.
New arts and leisure facilities, cafes, restaurants and bars will also be built along with new public squares for cultural events, green spaces, healthcare and community space and a primary school.
The newly opened Custom House Elizabeth Line Station will provide residents with a transport link to central London within 15 minutes, the developers said.
Prior & Partners is the lead consultant and masterplanner for the £3.5bn scheme and includes plots designed by AHMM, dRMM, Pollard Thomas Edwards, Maccreanor Lavington, and Gort Scott with OMMX.
Other firms working on the site include Arup on transport, Aecom on infrastructure and energy, DP9 on planning and SLA and Churchman Thornhill Finch on landscape.
The hybrid application has been paired with an application for full approval for the first phase of the scheme for 1,250 homes, including 610 affordable, with 82,000sq m of commercial space. Outline permission is sought for the remainder of the site.
Around half of the new homes will be affordable, the developers added.