If approved, the 42-storey skyscraper will go up the site of the former Tramps nightclub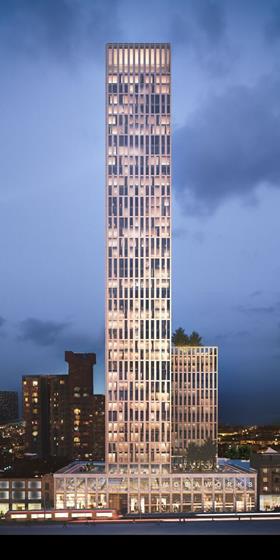 Plans for what would become Birmingham's tallest residential tower have been submitted to the city's council.
If approved, the £183m 42-storey skyscraper, designed by Glenn Howell and developed by Moda Living, will go up at the site of the former Tramps nightclub.
Called 2one2 Broad Street, the development (pictured) will house 481 apartments, ranging from studios to three-bedroomed flats.
Facilities will include 30,000ft² of dedicated communal space, such as a residents' lounge, health and wellbeing space, gym and residents' dining club with demonstration kitchen provided on-site.
An additional 35,000ft² of mixed commercial, retail and leisure space will be housed in a three-storey podium, which will feature a 200m-long running track on its roof.
Tony Brooks, managing director at Moda Living, said the building will "meet the burgeoning demand for quality accommodation".