Housing association Clarion is to submit plans by early 2018 to transform Barne Barton Estate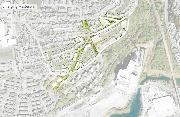 Clarion Housing Group has decided to push forward with plans to transform its Barne Barton Estate in Plymouth.
The £22m scheme is being masterplanned by local architecture practise Clifton Emery Design with detailed design work being done by RH Partnership Architects.
Plans include replacing the existing 1960s 228 bedroom affordable rent flats and several houses on the former Naval estate, which are rundown and suffer with inherent structural issues, creating improved views and people friendly streets, the housing association has said.
The regeneration scheme is being underwritten by Clarion Housing, which is also seeking investment from the Homes and Communities Agency (HCA) and Plymouth City Council.
Bob Beaumont, director of Regeneration at Clarion Housing said: "We recognised that significant investment was required to combat the challenges at Barne Barton, which is known locally as the 'forgotten island', and even then there were no guarantees that this would secure the long term future of the estate.
"However, enhanced investment and regeneration in the area over the last eighteen months has provided a real turning point and we firmly believe that with the support of the HCA and Plymouth City Council, Clarion will be able to secure the Estate's future and ensure that Barne Barton is forgotten no more."
Clarion Housing, which was formed last year from the merger of housing associations Affinity Sutton and Circle Housing Group, said it is aiming to submit a planning application to the council in early 2018.
The association previously announced in May that it planned to invest over £1bn regenerating three of its estate's in London's Merton borough - Ravensbury in Morden, High Path in South Wimbledon and Eastfields in Mitcham.