Justice minister Dominic Raab is the seventh appointment to the role since 2010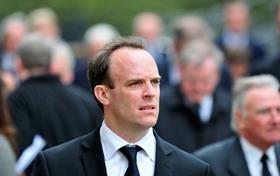 Dominic Raab has replaced Alok Sharma as housing minister after just seven months in the latest move by prime minister Theresa May to reshuffle her cabinet team. He becomes the seventh housing minister since 2010.
Raab, a leading Brexiter, had previously served as justice minister, with Sharma now becoming the new employment minister at the Department of Work and Pensions.
He had only been appointed as housing minister last June having replaced Gavin Barwell, who was ousted from his Croydon Central constituency during the general election the same month. Barwell had only been in the role little under a year.
A lawyer by profession, Raab worked for the Foreign & Commonwealth Office before his election to parliament in 2010.
His appointment comes 24 hours after communities secretary Sajid Javid had housing added to his ministerial brief as part of the cabinet reshuffle.
Previously he was secretary of state for communities and local government but the rebrand means Javid is now secretary of state for housing, communities and local government.
Brian Berry, chief executive of the Federation of Master Builders (FMB), said the appointment of yet another housing minister will do nothing to increase industry confidence in the first instance, but is hopeful Raab will continue to develop and implement strong housing policies.
I have thoroughly enjoyed working at MoJ on court reform, my thanks to the team there … and I'm looking forward to getting stuck into the housing brief, vital to building the new homes we need.

— Dominic Raab (@DominicRaab) January 9, 2018
Revised chart of the 16 housing ministers in the last 20 years by the number of months they have been in position including Dominic Raab appointed in January 2018.#ukhousing#housingpic.twitter.com/gRJEiiR5Zb

— Noble Francis (@NobleFrancis) January 9, 2018
A huge thanks to all in the #housing sector I met as #HousingMinister. Privilege to have worked with you. Best to @DominicRaab in the role. Looking forward to my work as #Employment Minister @DWP.

— Alok Sharma (@AlokSharma_RDG) January 9, 2018
"Once again we have a new housing minister, which doesn't really help build the continuity and greater certainty that the sector needs. However, Dominic Raab is an able and influential Conservative MP who we hope will bring a new energy and focus to the brief.
"We hope that his focus will be on continuing to develop and implement a range of good sound policies which have already been set out by Government in the Housing White Paper and other statements. And we hope that he will be given longer to take housing policy forward than too many recent Housing Ministers."
Mark Farmer, chief executive of consultancy Cast and the author of the government-commissioned Modernise or Die report into the construction industry, urged Raab to work quickly to engage closely with the industy on the housing crisis.
"At a time when the housing crisis continues to be a political hot potato, strong ministerial capability and maintaining continuity will be extremely important factors. The housing brief is incredibly complex and any new minister need to pick up the intricacies of the challenges very quickly, as well as immediately engaging the wider industry.
"Sajid Javid's continued role as secretary of state with overarching responsibility for housing will help ensure the links to last year's Housing White Paper commitments remains. However, it is critical that Dominic Raab gets up to speed quickly with a series of interconnected construction and housing sector challenges, and that through the secretary of state, he leverages the new cabinet level profile that housing has now assumed."
And Ian Fletcher, director of real estate policy at the British Property Federation, said stability is now needed within the new housing team in order to meet their long-term targets.
"For one reason or another the housing brief has become something of a revolving door in government and it is vitally important the new team experiences some stability and backing from across Whitehall if it is to meet the aspirations of delivering 300,000 homes per annum.
"Fixing the UK's housing crisis is not only vital to those people affected, but underpins the government's agenda on so many other levels, whether that is to increase UK productivity, economic growth or social wellbeing in the long-term."
The government wants the thousands of new homes it is promising to build to be in keeping with local architecture – or risk losing the support of locals.
Last month, Javid said he wanted to see more local firms get involved with the planned house building boom – which will see a planned 300,000 homes built every year from the mid-2020s.