Blacklist Support Group to appeal to Met and IPPC after complaint dismissed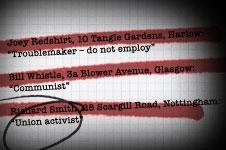 The Blacklist Support Group is to appeal to the Metropolitan Police and the Independent Police Complaints Commission (IPCC) after revealing that an earlier complaint about alleged police collusion in blacklisting to the two organisations had been dismissed.
Business secretary Vince Cable said during the landmark parliamentary debate on blacklisting last week that allegations of police involvement should be put to the IPCC but said he had "no evidence" this had been tried.
However, Building can reveal that the law firm acting for the Blacklist Support Group, Christian Khan solicitors, made a complaint to the IPCC and the Met last November, which was "non-recorded".
This followed the claim made by David Clancy - investigations manager at the Information Commissioner's Office (ICO) and himself a former police officer - that information on the construction industry blacklist he seized in 2009 including apparent details of surveillance on individuals "could only" have come from the police or security services.
Building has also established that the ICO sent the Met the entire blacklist database last May after a request from the police force.
A spokesperson for the IPCC said last November's complaint had been handled by the Met but was viewed as "too general" by the force.
Protocol dictates that all but the most serious complaints received by the IPCC are forwarded to an individual police force to handle.
A spokesperson for the Met said: "I can confirm that the directorate of professional standards received an allegation of an alleged breach of the Data Protection Act in November 2012.
"This public complaint was subsequently non-recorded and the complainant was advised to make a criminal allegation if they felt it appropriate."
However, partner at Christian Khan solicitors, Sarah McSherry, insisted the complaint included criminal allegations and called the police response "deplorable".
She said: "The complaints process is the only forum in which criminal allegations against police officers can be investigated yet the [Met's] directorate of professional standards refuse to record the complaint, suggesting that our clients "should report the matter as a crime in the normal way" as the "complaints process is not the correct vehicle to forward their concerns or allegations.
"This smacks of a complete lack of knowledge of the Police Reform Act and indeed the very function of the directorate of professional standards".
Labour MP Dave Anderson, who pressed Cable on the issue in the Commons, said the government appeared to have "learnt nothing from the phone-hacking scandal".
"This is what you get when you let the accused become involved in an investigation," he added.
"There should be a full investigation and Vince Cable should actually implement the will of Parliament and instigate an investigation where people would feel protected in order to expose these abusers."
Vince Cable's office declined to comment.