Exclusive: Analysis reveals detailed picture of contractors' spending on blacklist firm The Consulting Association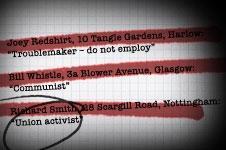 A detailed picture of contractors' spending on blacklist firm The Consulting Association (TCA) has been produced exclusively by Building.
The two graphs show the spending of 14 of the main users of the Midlands-based TCA, which was shut down in 2009 but is currently the focus of an investigation into blacklisting by the Scottish Affairs select committee.
The first, which shows annual spending on blacklist checks and membership charges, reveals major variations in the amount spent by firms over time.
To see the analysis in full go here
Both Skanska and Sir Robert McAlpine, for example, spent considerably more from 2003-2004 onwards than during the earlier years of the notorious organisation.
Laing O'Rourke, in contrast, spent far more in the early years, from 1996 till 1999-2000, than it did in the later years while Balfour Beatty maintained a relatively constant spend throughout the period and at a lower overall level.
The second graph, which shows total spending over the entire period, demonstrates the extent to which the two biggest users of TCA, Sir Robert McAlpine and Skanska, dominated with each spending well over £200,000.
They are followed by Laing O'Rourke and Balfour Beatty, which both spent more than £100,000 which are followed, in turn, by Carillion and Amec, which both spent around £70,000.
The data used in the graphs was published earlier this month by the Scottish Affairs committee in the form of a table provided by the former boss of TCA, the late Ian Kerr.
As first revealed by Building, the figures provided to the Scottish Affairs committee show that Skanska spent more on TCA in its last four years of existence than any other firm.
While the figures cover the period from 1996 onwards, TCA was established in 1993.
For the analysis in full see here.