Plastic pipe group says Carillion collapse hitting new work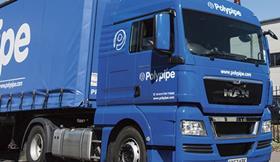 Polypipe has warned its commercial and infrastructure arm could be hit by project start delays in the coming year, as well as a knock-on effect of the collapse of Carillion in January.
Announcing a record year for the plastic pipe manufacturer, in which turnover for the 12 months to December 2017 rose by 6% to £411.7m and pre-tax profit was up 8% at £65.7m, the firm said overall conditions in the project pipeline for UK commercial and infrastructure sectors and demand from key road projects such as the A14 road upgrade in Cambridgeshire "should gather pace this year".
But it warned there was "evidence that project starts continue to be delayed, impacting performance in our Commercial and Infrastructure Systems segment in the early part of the year.
"The news of Carillion's demise in January may potentially lead to further project delays as main contracts are renegotiated and the impact on sub-contractors works through the market," it added.
Newly-appointed chief executive Martin Payne said the beginning of 2018 had started ahead of the same period last year and while forecasts were predicting a broadly flat construction market Polypipe had "a strong track record of outperforming the market".
He added: "While the UK RMI market is likely to remain tough throughout the coming year, the strength of the UK new housebuild sector will continue to drive demand."