Mace and Arcadis also backing proposal as West Midlands leader floats idea of phase 2 to Manchester being bankrolled by overseas wealth funds
Arup is leading a coalition of companies offering their services to the government to find a way to rescue the second phase HS2, according to the West Midlands mayor.
Speaking at a fringe event at the Conservative Party conference this afternoon, Andy Street said he had brought together a group of private firms willing to find radical solutions to build the stretch of line between Crewe and Manchester including bringing in private finance and commercialising high speed rail stations.
"It is quite unusual for private companies to come forward and say the prime minister is getting this wrong and to put their heads above the parapet. I have spent the past few days trying to assemble this coalition to help the government make the right decision," he said.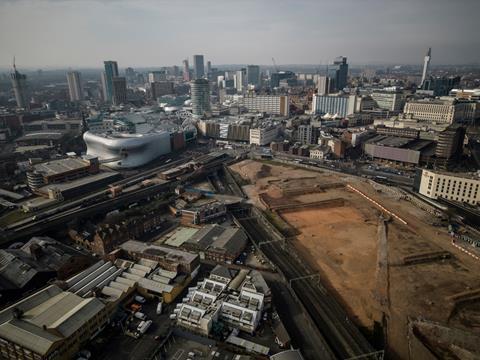 The mayor said he could not go into too much detail on the emerging consortium because he had only begun to approach firms last Friday but he said the group – which also includes EY and Siemens – could offer a "wholistic" review of the project if brought on by the government.
"But they are all saying we are ready waiting and we will bring a different expertise – some will look at funding mechanisms, some will look at the contracting piece, some will look at ownership," he said.
In a statement to Building, Siemens said it was "happy to work with government on looking at options for phase 2 rather than having it cancelled entirely".
Others involved include Mace and Arcadis and a senior source at one of the firms backing Street said: "We are supporting the letter Andy is putting to the government for potential alternative options to support HS2. I think that HS2 is needed to level up and to stop the uncertainty which is not helping investment decisions.
"Birmingham has seen 400% increase in planning applications since HS2 confirmation [and] that indicates the positive impact.
Any move to suggest improvements to existing rail systems forgets how overcrowded the lines are already and that most date back to Victorian times."
Explaining his decision to fight the party leadership on the issue, Street said he was doing it because it was the right thing for the West Midlands and "the right thing for the country".
"As a senior Conservative representative, somebody who is not in the cabinet who is not whipped, nationally needs to stand up and make the case," he said.
He said that a line between Acton and Curzon Street in Birmingham would become an "edifice to our failure" and that the issue had become "about far more than a railway".
"It's become about whether the UK can do difficult things," the mayor continued. "This is about our word as an investment destination."
Street said the prime minister was right to say that the management of the project had been "like a runaway train" but said the response to that should be to "press firmly on with stage one as quickly as you can", including the Euston link.
"The idea that you can scrap Euston as a bloody hole in the ground, this is for the birds," he said.
North of Birmingham, Street suggested pausing all expenditure and "bring in the best of the private sector from around the world to say how we should be doing this".
>>> See also: Infrastructure in crisis: ministers must honour commitments so schemes like HS2 can overcome poor perceptions
He said there could be options for high speed rail to be paid for by private investors or by loans from sovereign wealth funds and that there was a question over whether stations could benefit from commercial operations.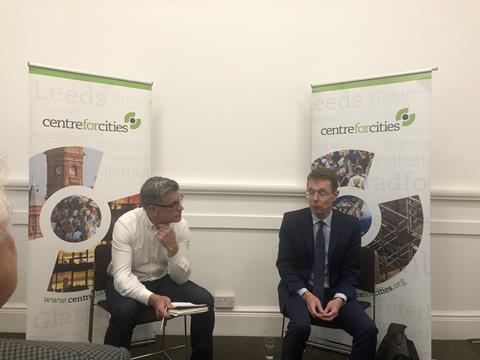 "When you go and look at a high speed line in Hong Kong or Japan, what do you see? You don't even see the station, you see a commercial operation – historically shops, much more likely now offices, in the future it will be wet labs," he said.
"So for goodness sake, bring the private sector in to run some of this including the stations."
The fate of the railway has dominated the Tories' conference in Manchester with Sunak expected to give some clarity on the issue in his leader' speech tomorrow. Earlier today, he told the BBC: "What I want to do is make the right decision for the country. This is an enormous amount of people's money, taxpayers' money, everybody watching, billions and billions of pounds.
"We shouldn't be rushed into things like that. What people would expect from me is to take the time to go over it properly and make sure we make the right long-term decisions for the country."