Big housebuilders bounce back but SMEs are still struggling
The private housing sector is still recovering from 2009, which had the lowest number of housing starts since 1923, if you exclude World War II. Following the financial crisis, housebuilders were writing down the value of the land and destocking.
Now, overall activity in the market appears good. In July it was 9% higher than in June and 40% higher than one year earlier, with an index value of 141. However, it is very much a two-tier market.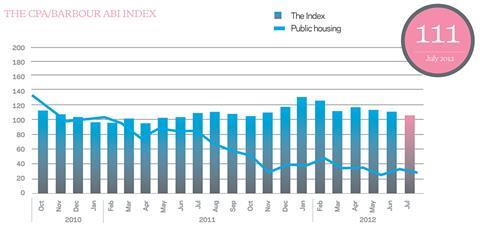 The large housebuilders are quite content at the moment as they are raising the book value of their land. They have margins of around 10%-15% on each unit and they have between six and seven years' of land with planning permission. Furthermore, if NewBuy does provide a benefit, it will be for the large housebuilders.
Conversely, SME housebuilders continue to suffer. They are plagued by lack of lending and lack of land with planning. Also, they don't benefit from policies such as NewBuy. Since 2008, many small housebuilders have left the market and, unfortunately, it wouldn't be a surprise to see the same happen to medium size housebuilders too.
The Index methodology
The CPA/Barbour ABI Index is based on Barbour ABI research on contract awards. The Index is adjusted for seasonal variation and includes monthly deflators to allow for price changes. For historical data from January 2007 visit here which includes monthly data on 15 different sectors. The Index is benchmarked against the value of 100 in January 2010.