Troubled contractor says it is unlikely meet its financial covenants this year as waste debacle costs it another £35m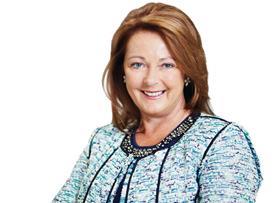 Interserve has warned it is unlikely to meet its financial covenants for 2017 after it issued a fresh profit warning and said the cost of quitting the energy-from-waste sector would now cost it close to £200m.
Providing an update on current trading this morning, the firm said the amount it would have to shell out on pulling the plug on the sector has increased by a further £35m in addition to the £160m already provided – which itself had surged from the £70m initially stated last year.
The debacle has dogged the firm for months now and nearly a year ago it was told to leave a job in Glasgow, which it won back in 2012, by its client Viridor because it "repeatedly failed" to meet its delivery milestones.
As well as Glasgow, Interserve has since taken on energy from waste schemes – which involves turning household rubbish into energy – at five other sites including Derby, Rotherham and Peterborough.
Chief executive Debbie White (pictured) gave no further update on the legal fight over the disputed contracts – it is also involved in legal action on another energy from waste scheme at Kidderminster.
The contractor also said trading in the third quarter has seen a slowdown from that reported in the first half of this year.
In UK support services, this was driven by the "continued employment cost pressures in the business, the cost of contract mobilisations, margin deterioration driven by a cost base that has not been flexible enough and contract performance in the justice business".
Its UK construction business saw further deterioration in operating profit due to challenging market conditions, cost pressures and operational delivery issues impacting performance.
The firm now expects operating profit for the overall group in the second half of the year to be around half the level from what was reported in the second half of last year. It reported an operating profit of £61.3m in the second half of 2016.
Taking all these factors into account, Interserve said it believed there was a "realistic prospect" that it will not meet the net debt to EBITDA test contained in its financial covenants for 31 December 2017.
The latest update come days after the contractor admitted it was in talks with its lenders and has engaged a financial advisor, reported to be EY, to assist it in this process, as well as looking at options to maximise the short and medium term cash generation from the business.
Interserve is also launching a group-wide performance improvement plan, Fit for Growth, aimed at improving margin performance to industry norms.
As part of this, it has initiated a series of work streams to address its operating model and the cost base of its operations, as well as ensuring it is operating in market segments which are both profitable and offer opportunity for growth.
It has also started a "comprehensive" contract review across both the support services and construction businesses.
White (pictured) added: "Despite our challenges, Interserve has a strong client base and many strengths as an organisation and I believe there is considerable potential for business improvement across the company.
"My team will focus on improving our margin performance in UK support services and ensuring good contract selection in UK construction, while reducing our cost base across the company."