World Cup organisers detail new charter aimed at protecting rights of workers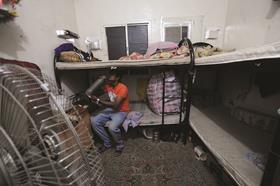 The organisers of the 2022 World Cup in Qatar have unveiled a new charter aimed at protecting the rights of workers building stadiums for the event.
The move comes after international controversy following the deaths of almost 200 Nepalese men on construction projects in Qatar last year, with the International Trade Union Confederation saying up to 4,000 could die by 2022 if conditions for migrant labour are not improved.
Qatar had been asked by football governing body Fifa to outline how it would reform working practices by 12 February, and has today outlined a new 50-page charter that has been developed alongside with the International Labour Organisation.
However, the charter only covers World Cup stadium projects, rather than the wider infrastructure associated with the event.
The charter details the key measures that the Qatar's World Cup Supreme Committee will implement when dealing with contractors and subcontractors on World Cup stadium projects.
In a press statement, the Supreme Committee said the charter would set clear guidelines that protect the rights of workers throughout the entire supply and had been incorporated in all of its contracts.
The Supreme Committee's said the charter addressed key concerns highlighted in recent reports about working and living conditions of workers in Qatar's construction sector including:
Payment of wages: the Standards require contractors to set up bank accounts for their workers, which will help facilitate payment, creating an auditable transaction system that will help the Supreme Committee verify that all workers are being paid in full and on time.
Accommodation: Comprehensive specifications for worker accommodation, setting clear guidelines for everything from the number of beds per room to a minimum standard for cleanliness and hygiene.
Enforcement: a 4-tier audit system, implemented with the support of independent third-party auditors. Progress reports based on the audits are to be made public in order to track progress and share lessons learnt with government stakeholders and the international community.
The Supreme Committee said it would penalise contractors who are non-compliant with the charter or "in extreme cases" terminate contracts.
However, it said the main focus was on working with contractors to improve standards.
It added: "For situations in which contractors do not demonstrate improvement, there are legal mechanisms in all Supreme Committee contracts which allow the Supreme Committee to step in and fix the problem at the contractors' expense.
"The Supreme Committee is required to report such incidents to MOLSA and the Central Tenders Committee, jeopardising the contractor's ability to undertake future projects in Qatar."
It said employers will have to install a telephone hotline for workers to raise grievances and report concerns; grant workers a minimum of three weeks' paid annual holiday based on a 48 hour week that cannot exceed eight hours per day; guarantee workers a rest day or compensate them; and create welfare officer posts as well as a forum for grievances to be resolved.
Hassan Al Thawadi, secretary general Supreme Committee for Delivery & Legacy, said: "We have always believed that Qatar's hosting of the FIFA World Cup would be a catalyst to accelerate positive initiatives already being undertaken by Qatar, which will leave a legacy of enhanced, sustainable and meaningful progress in regards to worker welfare across the country.
"We already see this progress taking place across Qatar on a daily basis, and will continue to work hard to make our vision become the ever-present reality on the ground."
Dr Abdullah Saleh Mubarak Al Khulaifi, the minister for MOLSA said: "MOLSA will continue to support in enforcing these standards, and Qatar's existing labour laws, and to work with other government bodies in Qatar in holding accountable employers who fail to uphold these laws."