Consultant accused of failing to identify abuses of workers on New York University's $1bn Abu Dhabi campus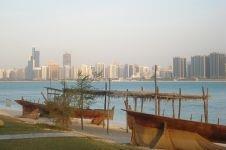 Mott MacDonald has been accused of failing to identify abuses of workers on New York University's $1bn (£558m) Abu Dhabi campus, on which the consultant has been appointed to monitor workers' conditions.
Artists' pressure group Gulf Labor, which is campaigning for workers' rights on several projects on Abu Dhabi's Saadiyat Island, including the NYU project and planned Guggenheim and Louvre museums, made the accusation - denied by Mott MacDonald - in a report published last week.
The report accuses Mott MacDonald of visiting certain workers' camps for its monitor reports but overlooking others where NYU project workers also live, including in the Mussafah area to the south of Abu Dhabi, and Dubai.
Gulf Labor says NYU project workers in these camps did not possess passports, some did not have written contracts, some had not been paid on time, and some had been forced to work overtime – all in contravention of the NYU project's labour standards charter.
Gulf Labor also claims there is a conflict of interest between Mott MacDonald's NYU monitoring role and a separate role the firm has overseeing $27bn (£16bn) of water and electricity infrastructure work across the whole of Saadiyat Island.
Mott Macdonald rejected the claim that it has a conflict of interest, saying its "contract to develop infrastructure for Saadiyat Island does not affect our monitoring".
"Our appointment as compliance monitor was made through a competitive process and our contract contains provisions to ensure there are no conflicts of interest," a spokesperson said.
He said all NYU project workers "had access to their passports and other personal documents whenever they needed them" and workers were "given special contracts that set out their rights".
The spokesperson added that none of the firm's auditors on the project had identified concerns about overtime and that wages on the project were "designed to place workers at the top of the range in their respective categories".
Gulf Labor's focus is Saadiyat Island's Guggenheim and Louvre projects, which are being developed separately from NYU Abu Dhabi by the Tourism Development and Investment Company (TDIC).