Loss of momentum reflects ongoing uncertainty, experts say
Construction output increased by a record 41.7% throughout the third quarter of 2020 but slowed significantly in September.
The increase in activity compared to quarter two was driven by record quarterly growth in both new work (40.8%) and repair and maintenance (43.4%).
Construction output was up 2.9% month-on-month in September, again driven by increases in both new work (2.7%) and repair and maintenance (3.4%). This was the fifth consecutive month of growth – but the lowest rise within that time.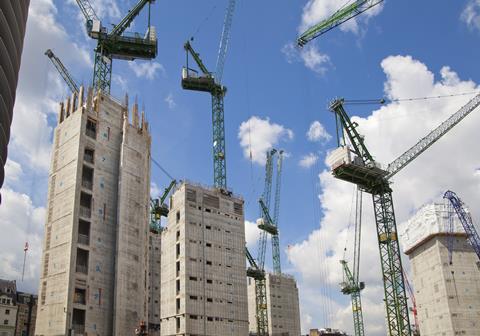 The level of total construction output in September was also 7.3% below February's level, with only infrastructure and private new housing back at their pre-pandemic levels.
All other types of work in September 2020 have yet to recover from the shock of the pandemic, with public new housing the furthest below its February 2020 level at 29.4%.
The 40.8% increase in new work in the third quarter was because of record quarterly growth in all new work sectors. The largest contributor to this was private new housing, which grew by 84.4% compared with the second quarter.
Fraser Johns, finance director at Beard, said that while the headline figures of quarterly growth in all areas of work were welcome, the slowdown in September was more significant.
"The slowdown in the rate of growth in September possibly reflects the level of uncertainty at that time across the economy as the prospect of a tough winter ahead loomed," he said.
"So it may be that, with the positive news of a vaccine in recent days, that uncertainty dissolves as we head through quarter four."
But he conceded that the likelihood of a no-deal Brexit could hamper efforts to improve on pre-covid levels of growth.
There was also a record quarterly increase (89.2%) in new orders following the record 54% fall in the second quarter. This meant new orders had returned to a level comparable with July to September 2019, increasing by 0.6% in the quarter-on-year series.
This growth was because of an 88.7% growth in new housing and 89.4% in all other work. Public new housing was the only sector to decline, falling by 1.8%.
Simon Rawlinson, partner and head of strategic research and insight at Arcadis, said the latest data was encouraging but there was still a hole in the order book worth between £5bn and £6bn.
He said: "The top-line increase in orders is very encouraging, but [there has been] no sense of a 'bounce back' so far, with work deferred during lockdown coming back more quickly.
"On output, growth appears to have petered out during September. This is consistent with other data including the PMI, which suggested that the bounce-back was losing momentum.
"It is difficult to tell how much of this is output lost through lower productivity and how much through lower demand, but the data is a useful reminder that the impact of the first lockdown continues to weigh on the sector."
Overall, UK GDP grew by 15.5% in the third quarter of this year as the economy recovered from the shock of the first lockdown. But that still left the economy around 9.7% smaller than it was at the start of the year. Compared with the same quarter a year ago, the UK economy fell by 9.6%.
Aside from construction services, output grew by 14.2% from July to September, while production output increased by 14.3%.