Balfour adopts selective bidding strategy after posting further major losses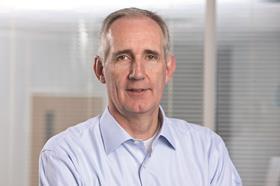 Balfour Beatty is downsizing in London after suffering losses on major projects in the capital, chief executive Leo Quinn has told Building.
Speaking after the firm posted further heavy losses this morning, Quinn said Balfour was adopting a more selective bidding strategy – including scaling back its London business and competing for fewer small jobs.
In results for 2015, Balfour's construction arm racked up a £280m operating loss, while the firm posted a £199m overall pre-tax loss. Quinn refused to rule out a further loss in 2016, and said the firm might not make normal margins until 2018.
Commenting on the firm's London operations, Quinn (pictured) said: "In the London area we are reducing, where we have suffered losses on key projects.
"We ended up with too much business in London and didn't have the resource. It's now about matching our risk capability with our level of business."
Despite problems in the capital, Quinn said Balfour's strategy was still to pursue major, complex projects in the city and elsewhere, with the prospect of higher margins: "We still want to be taking on premier engineering jobs […] We will be doing more and more of these."
Instead, Balfour is reducing the number of small jobs it takes on, Quinn said, adding: "The cost of bidding [small] jobs and making a return means it's sub-economic".
Quinn said Balfour had ramped up its checks on bids to try and swerve problem jobs: "Each step of the way we are monitoring and tracking. We have real time control."
Quinn declined to name London projects where Balfour has suffered losses, but problems have been reported on several in recent years.
For instance, Balfour requested more money from clients on both the conversion of the Olympic Stadium for West Ham football club and a hotel project next to the O2 Arena; a dispute over payments on the latter of the two schemes ended up in the High Court. However, Building has no information to suggest either job is loss-making.
Quinn said the firm was "halfway through" the first phase of its turnaround programme to the end of 2016, when 90% of its problem legacy jobs will have completed.
He said: "We have made fabulous progress. But it's far too early to declare victory. We've put a huge amount of work in towards transformation. We are going from strength to strength."
"For where we are, what we have achieved is truly astonishing. We've been around for 100 years and this is about ensuring we're around for another 100."