Manchester university is seeking a contractor for a £200m design and build job for a new engineering campus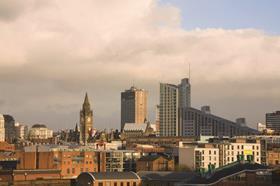 The University of Manchester said it was seeking a contractor to undertake a £200m design and build contract for the new Manchester Engineering Campus Development (MECD), the first project in the £700m first phase of the university's £1bn estates investment programme.
According to the OJEU notice for the job, the contract is set to commence in June 2013, with completion set for 2018.
The £700m first phase of the university's estates masterplan will be delivered over the next six years and includes the MECD, plus new centres for the School of Law and Manchester Business School, a major refurbishment of the University Library, a new Students' Union and a new Medical School for students in Dover Street.
There will also be investment in a Combined Heat and Power Facility, as well as a new car park and the refurbishment of the telescope at Jodrell Bank.
Outline plans have also been drawn up for a second phase, which is expected to cost a further £300 million and would begin in 2018 and end in 2022.
This second phase will create a Biomedical Campus around the existing Stopford Building, a new health centre for staff and students, and includes refurbishments in the Schools of Computer Science, Earth, Atmospheric and Environmental Sciences, Mathematics and Chemistry.