Laing O'Rourke boss scotches retirement rumours in exclusive interview with Building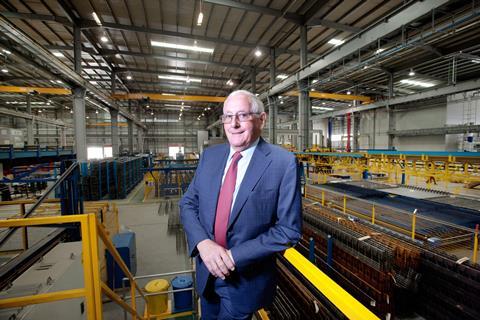 Laing O'Rourke's chief executive Ray O'Rourke has put paid to speculation about his retirement, telling Building that, although the contractor regularly reviews its succession strategy, he has no plans to leave yet.
Discussion over who will take over when O'Rourke decides to step down has continued for some years. A number of previous executives – including former Heathrow boss Tony Douglas and the late Anna Stewart – have at one stage been mooted as his replacement.
Next year marks the 20th anniversary of John Laing's decision to sell its construction business, which was eventually snapped up for £1 by O'Rourke, transforming a £200m-turnover concrete subcontractor into a tier 1 contractor overnight.
But O'Rourke, who turns 73 next month, said leaving the business he founded in 1978 was not on his mind at the moment.
"We have a board of directors led by the eminent chairman Sir John Parker, so it would be incredible to think that the succession planning isn't something that is reviewed," he said.
"If you are asking me the question, am I leaving soon: I hope not. I'm really enjoying what I'm doing and I have a wonderful team of young people around me."
He added: "With a great chairman like Sir John and our group finance director Stewart [McIntyre], you couldn't have a better team. We have a great team; we have a great executive."
O'Rourke admitted that the firm's refinancing, which was finally signed off earlier this year, had caused problems.
On the issue of contractors' access to liquidity, he added: "People get into difficult positions and that's what happened to some of our competitors, such as, I'm sad to say, Carillion and others.
"We have had our own experience which, I'm delighted to say, we've come through and turned it around – but we only got through because of the goodwill and the transparency that operates between us and our clients and supply chain."
O'Rourke added that clients needed to sharpen their act on settling bills, in the same way that contractors had been asked to speed up payments to their supply chains.
Laing O'Rourke has improved its payment times, with its latest data showing the average number of days that suppliers have to wait is 34 – compared with 52 days for the previous six-month period.
But O'Rourke said clients should also be doing more: "Clients start off with a project and [if] there is a dispute, it can run for years. Then [it] gets settled. That's not prompt payment [from] the client side.
"The whole procurement methodologies have to change. It's a licence for those vested interests, like lawyers, financial advisers and others, to make a fancy living out of these adversarial arrangements."
The contractor returned to the black for the first time in four years in 2019, when it posted a pre-tax profit of £33m for the 12 months to March. Revenue was flat at £2.7bn.
To find out the priorities for the next government from Ray O'Rourke and other industry leaders read our full feature tomorrow