Laing O'Rourke boss bemoans the ability of the industry to attract "bright people"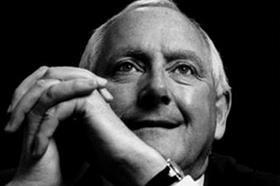 Ray O'Rourke, chair of contracting giant Laing O'Rourke, has said that the productivity in the construction industry is "woeful".
Speaking at a round table on investment in Australia, hosted by HSBC bank last week, O'Rourke said productivity in both the UK and Australia was poor and bemoaned the industry's ability to attract "bright people".
He said it was difficult to attract smart young graduates into construction because they had many opportunities in other industries the UK, while he said that in Australia the fact that many construction projects were far from the major cities created a similar recruitment problem.
He said: "Productivity is woefully low in both regions… How you can get improved productivity is by transitioning from having trades to technicians. I want to see people working with a lab coats [on site] assembling stuff that has been manufactured to a very high standard."
O'Rourke has invested heavily in offsite manufacturing facilities in the UK and Australia and has made offsite manufacturing a central characteristic of his business.
He also said striking early agreements with trade unions on worker conditions and pay was another key part to ensuring improved productivity.
He praised the Australian trade unions in particular. He said: "When we have agreements they live by them."
O'Rourke also said that he expected the firm's Australian business to continued to account for around half of the firm's revenue, as it did last year.
He said: "We think the shift that has taken place [towards Australia] over the last couple of years will flat plane now."