Activity increased by 17.6% in July, according to the ONS
Construction's recovery from the doldrums of the coronavirus lockdown continued in July – but output is still significantly below the level seen before the covid-19 crisis gripped the UK, according to Office for National Statistics figures.
The data shows that while activity expanded by 17.6% in July this was still down 11.6% on the output recorded in February, the last full month before lockdown for the coronavirus began.
The latest numbers also revealed that growth slowed from June, when output grew by 23.5%.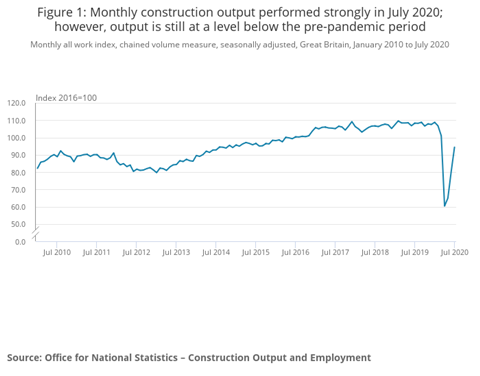 Construction output fell by 10.6% in the three months to July 2020, compared with the previous three-month period. This was driven by both a 9.7% fall in new work and a 12.4% dip in repair and maintenance.
Clive Docwra, managing director of consultant McBains, said while the figures were a sign of continuing recovery, they needed to be viewed in the context of an industry that experienced a record 40% drop in output at the height of the lockdown.
He said: "Construction is still a long way from being out of the woods and the upturn is extremely fragile, reflected by the fact the figures show that new work decreased by 9.7% in the three months to July 2020.
"The big concern for the industry is if there's a second spike [in covid-19 cases] and a further lockdown. The government needs to do all it can to ensure the sector maintains its recovery."
Dowcra said the downturn in new work was being compounded by the threat of a potential no-deal at the end of the Brexit transition period that was making investors nervous about committing to new projects.
The decrease in new work in the three months to July 2020 was because of falls in every new work sector, apart from infrastructure, which grew by 6%. The largest negative contributor was private new housing, which fell by 17%.
Infrastructure was also the only area of construction where more work was carried out in July than in February - before the coronavirus lockdown.
There was £113m more infrastructure work carried out in July than in February.
Private housing was at the other end of the scale, with £447m less work undertaken in July than February.