Founder steps down next month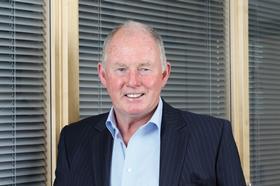 Redrow said it has shrugged off Brexit uncertainty to turn in record half year profit and revenue.
The housebuilder's founder Steve Morgan is retiring from the business for a second time, stepping down next month.
Morgan (pictured) set up the company back in 1974 before stepping down for the first time in November 2000.
He rejoined the housebuilder in March 2009 after the firm suffered following the financial crash the year before.
Morgan will be replaced as executive chairman by Redrow's current chief executive John Tutte.
In its interim results for the six months to December 2018, Redrow said pre-tax profit was up 5% to £185m with turnover up 9% to £970m.
In his last report as chairman, Morgan said: "The market during the run up to the festive period and the first two weeks of 2019 was subdued by macroeconomic and political uncertainty. However, sales over the last three weeks have bounced-back with reservations running at similar levels to last year's strong market activity."
The firm said the number of homes it built during the period rose 12% to 2,970 with its order book standing at a record £1.16bn.