Housebuilder predicts continued growth as housing market recovers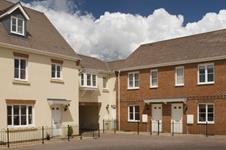 Housebuilder Redrow has reported a 50% jump in pre-tax profit during the second half of 2012.
In a statement to the City the firm reported a profit of £26.2m in the six months to 31 December 2012, up from £15.3m over the same period of 2011.
Redrow also reported a rise in revenue to £257m, up from £233m over the period.
Steve Morgan, chair of Redrow, said the firm had delivered a "significant improvement in profitability".
He added: ""The backdrop remains challenging, but the stability of the housing market, the gradual improvement in both the planning environment and the mortgage market, together with our distinct focus on our high-quality, differentiated family housing range has meant that we have continued to make good progress."
He said the firm also had 8% more reservations at the start of 2013 than it had at the start of 2012 and was on track to increase outlets from 82 to 90 by June.
"Given the strong pipeline of new sites and the modest improvement in market conditions, I am cautiously optimistic that Redrow's strong recovery is set to continue," he said.
However, Morgan said that the Welsh market was lagging behind England because there were no government schemes like NewBuy designed to increase lending in the housing market. He said the South Wales region was the only one in the firm not experiencing "notable growth".