Housebuilder's boss says start to 2013 best since the credit crunch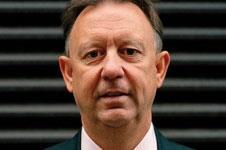 Barratt chief executive Mark Clare has described the first eight weeks of 2013 as the strongest start to a year since the onset of the credit crunch in 2007.
Announcing interim results for the six months to December 2012 showing pre-tax profit up by 113.4% on the previous year, Clare said: "We've been operating in an unusually weak market since late 2007onwards. I would say this is the strongest start to a year since then."
However, Clare said it was too early to say whether the "very strong" start would feed through to more definite housing market recovery. "We have seen comparable strong periods before [since 2007] that have faded. We'll have to see if this continues to know whether it's a turning point."
Clare said that a slowly improving mortgage market was the main reason behind the improvement, with Barratt also benefitting from strong marketing and a greater number of new sites opening with land bought since after the credit crunch.
Barratt's forward sales are currently 21.4% higher than at the same point last year, with average site reservations increasing by 4.9% in the first eight weeks of the year on the same period in 2012. Clare said prices were nevertheless stable, and that the strong market would only feed through to higher prices if it was sustained over a much longer period of time.
Barratt's figures for current trading are similar to those reported by other housebuilders in the last week, but Clare is the only one to describe the market as the strongest since the credit crunch.
The firm reported profit of £32.2m for the half year on static revenue of £951m. The firm sold 5,085 homes in the period, slightly down on the 5,117 sold in the same period in 2011 because of a drop in the sale of social homes. It's operating margin rose to 8.5%.