Planners are backing the revised scheme after its height and footprint reduction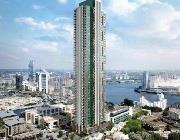 A 49-storey skyscraper designed by Make Architects in London's Docklands is set for planning approval after lopping off seven floors.
Previous plans for a 56-storey version of the scheme at 225 Marsh Wall were withdrawn last year after London Borough of Tower Hamlets planning officers recommended the scheme for refusal on the grounds that it would be over-development of the Isle of Dogs site, south of Canary Wharf and impact on the light available to neighbouring properties.
The current proposal, drawn up for Cubitt Property Holdings, will also have 110 fewer flats compared to the scheme's previous iteration which had 442 homes, while other design changes include a reduction in the stepping effect of the tower's highest levels and a simplified podium design.
The reworked plans have no studio properties and 50% of the homes are family-sized, meaning that they have three or more bedrooms after the previous scheme was criticised for its lack of family-sized homes compared to the quantity of studio apartments.
The new incarnation of 225 Marsh Wall is aiming to deliver 25% affordable housing through a mix of tenures, and has a 140m2 lounge and terrace for affordable-home residents on the second floor, while private residents will have access to a 592m2 communal lounge, terrace and gym facilities on the 46th floor.
In addition to the new homes, the scheme is to include 810m2 of space for community or office use and a 79m2 flexible retail unit.
London Borough of Tower Hamlets planning officers are recommending councillors approve the revised scheme.
"The development would be of a high architectural quality with height stepping down from the Canary Wharf major centre and provides public open space to the west that would link in with the approved open space at Meridian Gate – aka the Madison – to the west," the planning officers said.
"The proposed residential units would benefit from internal and external community space and child play space and all units would have private amenity space in the form of balconies."
Make said the reworked proposals had reduced the scheme's height by 15% while its width had reduced by 16% to incorporate more ground-level public realm.