Survey of 1,000 UK office workers saw firms with phyisically fit staff reap gross profit margins 8% higher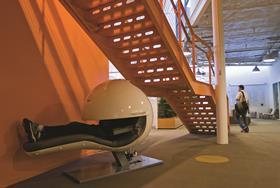 A new study of 1,000 UK office workers has found that the most profitable companies are the ones with staff who say they are provided with environments that promote good physical and mental wellbeing.
The research project Wellness Together has reported that employees with a high sense of mental wellbeing work in firms that have an average gross profit margin 3% higher than companies with average or neutral self-rated wellbeing and 7% higher than those where employees rate themselves as mentally unfit.
From physically fit staff, employers reap an averge gross profit margin of 8% more than those with physically unfit staff, the research has revealed.
Higher profitability is also associated with companies that have greater agility and flexible working practices. Firms with a high level of flexibility and agility have 6% higher gross profit margins, on average, than companies with low flexibility and agility, the report added.
And companies which are highly innovative make on average 8% more gross profit than their less innovative counterparts.
Employees that work in higher performing companies also reported that they had more freedom to choose how they worked and a wide range of facilities.
However, only just over half (53%) of those surveyed felt they had adequate control over their comfort when working with a quarter of those surveyed said they would like the option of being able to stand or sit when they work.
In addition, half of those surveyed said having their own desk was important, while 43% said quiet private space in the office was important.
The research conducted by Sapio Research on behalf of architect BDG, Bisley, lighting designer Future Designs, engineer Hoare Lea, Humanscale and Woven Image added that the top enivornmetnal improvement factor cited by those surveyed was better ventilaton followed by the ability to control temperature, more natural light and the ability to open windows.