The UK arm of architect Wilkinson Eyre has reported a fall in revenue of 9% and a drop in pre-tax profit of 1.6%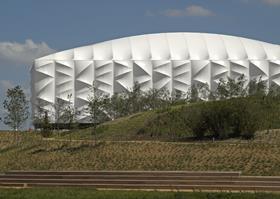 In accounts filed at Companies House Wilkinson Eyre Architects Ltd reported revenue of £10.3m in the year to 31 March 2012, down from £11.3 in the year before.
The firm also reported a fall in pre-tax profit of 1.6% from £1.67m in the 2011 accounting year to £1.65m in 2012.
In the accounts, director Jim Eyre said: "The strategy adopted by the directors over the past few years to engage in a wide range of markets and project sectors has served the company well.
"The UK economy remains fragile, and whilst this remains the case, there is more emphasis being put on seeking work abroad."
The firm's work in the UK fell from £7.4m in 2011 to £6.8m in 2012 while work in China and North America grew.
However, work in Australia and the rest of the world also declined.