University of Cambridge wins planning permission for Aecom designed masterplan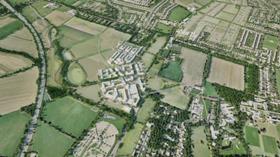 The University of Cambridge has been given planning permission for a £1bn development of a 150-hectare site in the city.
The development, masterplanned by Aecom, is set to include 2,000 homes, accommodation for 2,000 students and 100,000sqm of research facilities. A third of the site will be open park ground and sports facilities.
Architects David Chipperfield, Wilkinson Eyre, Mecanoo, Cottrell & Vermeulen, Muma, Mole, Sarah Wigglesworth, Townshend Landscape Architects, AOC and RH Partnership have all already been appointed to work on the development.
Professor Sir Leszek Borysiewicz, vice-chancellor of the University, said: "This development is a major part of the University's long term future. It will provide much of the residential and research accommodation that the University needs as it grows over the next 20 years."
All houses on the development will be designed to level five of the code for sustainable homes and the other buildings will need to achieve a BREEAM Excellent design rating.
The first phase of the development will comprise accommodation for 300 students and over 900 homes.