'We need to be celebrating rather than endlessly bemoaning construction's failings,' Simon Allford adds
RIBA president Simon Allford has said the construction industry needs to be better at selling itself to would-be newcomers and should stop talking itself down so much.
One of the founders of Stirling Prize-winning architect AHMM, Allford took up the post at the beginning of last month from former incumbent Alan Jones.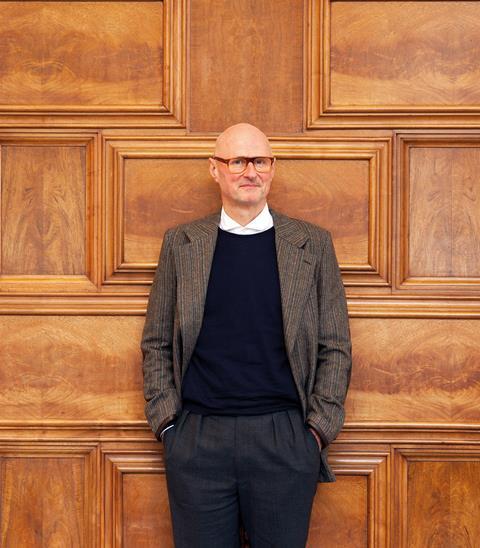 Speaking about the escalating labour shortages, he said limited supplies would inevitably see firms having to pay more for staff.
"Maybe that's long term quite a good thing," he said. "There's no doubt we need to upskill the industry, make it a more attractive job for people."
He added: "We need to be going into schools, talking about working in construction, not just as an architect, and potentially what an amazing thing it is to be part of a one-off bespoke project that a group of 50-100 designers, 300-400 makers all coming together to deliver something that's of value long-term to society; that's quite an attractive thing if you put it that way.
"Being on a building site is tough in the winter, it is tough in the ground so the more we can take off site the better and all the key contractors and design teams have been working on that for years and it's become a focus for people.
"At the same time, we have to focus on the fact that it's a creative business. There's job satisfaction. There is an artisanal role in making that's quite special and people in the construction industry are actually quite passionate about what they do. We need to be celebrating that rather than endlessly bemoaning the construction industry's failings."
Last week, Modernise or Die author Mark Farmer said hopes that restrictions on overseas workers will be relaxed to help the industry cope with growing labour shortages would fall on deaf ears within the government.
Andy Steele, the new chairman of Build UK, said the sector still needs unrestricted access to EU labour for the next few years while it brings in new recruits and gets them up to scratch.
But Farmer said the government was unlikely to U-turn on the issue. He made his comments just days before the RIBA's latest Future Trends survey reported that nearly one in five architects were struggling to fill vacancies at their firms.