Stirling Prize shortlist will come from 49 nominated buildings
Foster + Partners' Bloomberg London headquarters and Arboreal Architecture's memorial to victims of a wartime tube-station disaster two miles east are among the winners of this year's RIBA National Awards.
The 49-strong best-building roll of honour also includes Rogers Stirk Harbour + Partners' (RSHP) long-completed Leadenhall Building, Amanda Levete's Victoria & Albert Museum Exhibition Road Quarter and Feilden Clegg Bradley Studios' Royal Birmingham Conservatoire.
The shortlist for the Stirling Prize is drawn from National Awards winners and will be announced on 19 July.
By practice, AHMM netted the biggest haul of awards, racking up gongs for its White Collar Factory office scheme at London's Old Street roundabout, its Weston Street mixed-use office and residential scheme in Bermondsey and its reinvention of Liverpool's Royal Court Theatre.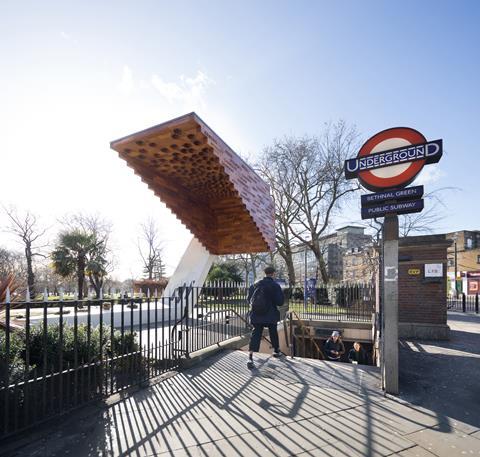 Eight practices won two National Awards, either in their own right or shared with other architects. RSHP's second award was for the £200m Riverlight mixed-use development at Battersea, in conjunction with EPR Architects.
The other practices picking up two National Awards were Amin Taha + Groupwork, Bennetts Associates, FCBS, Hawkins Brown, Henley Halebrown, Maccreanor Lavington and Niall McLaughlin Architects.
RIBA said that "key trends" among this year's award winners included buildings with dual or multiple uses to benefit local communities, such as Bennetts Associates' Storyhouse in Chester, which is a library by day and a theatre by night, and housing schemes, such as Karakusevic Carson and Henley Halebrow's Kings Cresent Estate homes in east London.
It added that schemes using building materials that are sensitive to a project's local context – such as the V&A's Exhibition Road Quarter and Witherford Watson Mann Architects' Walthamstow Wetlands – was another key theme, as was the reuse and regeneration of commercial-sector buildings. RIBA cited Piercy & Company's 25 Savile Row and Hawkins Brown's 53 Great Suffolk Street projects as examples of the latter.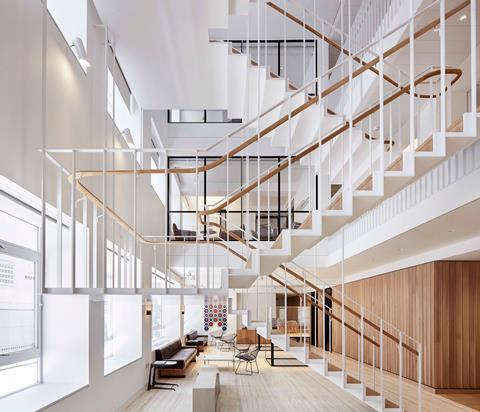 RIBA president Ben Derbyshire said he was "particularly pleased" to see some large-scale housing schemes among the 2018 winners, and that they were "beacons" of the possible for "enlightened local authorities and developers".
He added: "From exceptional mixed-use buildings that bring a community together, and breathing new life into dilapidated buildings, to getting the best value from an awkward site or limited budget, every one of this year's winners is a testament to the architects' skill in solving a range of challenges to create projects that will inspire and delight their users and communities for years to come."
RIBA National Award winners 2018
15 Clerkenwell Close: Groupwork + Amin Taha Architects (London)
25 Savile Row: Piercy & Company Derwent (London)
53 Great Suffolk Street: Hawkins Brown (London)
Albert Works: Cartwright Pickard Architects (Yorkshire)
Bethnal Green Memorial: Arboreal Architecture (London)
Bloomberg, London: Foster & Partners (London)
Boroughmuir High School, Edinburgh: Allan Murray Architects (Scotland)
Bushey Cemetery: Waugh Thistleton Architects (East)
Caroline Place: Amin Taha + Groupwork (London)
Chadwick Hall, University of Roehampton: Henley Halebrown (London)
City of London Freemen's School Swimming Pool: Hawkins Brown (South East)
Coastal House: 6a Architects (South West)
Durham Cathedral Open Treasure: Purcell (North East)
Five Acre Barn: Blee Halligan (East)
Gasholders: Wilkinson Eyre with Jonathan Tuckey Design (London)
Kings Crescent Estate, Hackney, Phases 1 and 2: Karakusevic Carson Architects with Henley Halebrown (London)
Kingsgate Primary Lower School, Camden: Maccreanor Lavington Architects (London)
Knox Bhavan Studio: Knox Bhavan Architects (London)
Liverpool's Royal Court: Allford Hall Monaghan Morris (North West)
Lochside House: Haysom Ward Miller Architects (Scotland)
Maggie's Oldham: dRMM Architects (North West)
Marlborough Primary School, Kensington and Chelsea: Dixon Jones (London)
New Tate St Ives: Jamie Fobert Architects with Evans & Shalev Tate (South West)
Nucleus, The Nuclear Decommissioning Authority and Caithness Archive: Reiach and Hall Architects (Scotland)
Old Shed New House: Tonkin Liu (Yorkshire)
R7, Kings Cross: Duggan Morris Architects with Weedon Architects (London)
Riverlight: Rogers Stirk Harbour & Partners with EPR Architects (London)
Royal Academy of Music, The Angela Burgess Recital Hall and The Susie Sainsbury Theatre: Ian Ritchie Architects (London)
Royal Albert Wharf Phase 1: Maccreanor Lavington Architects (London)
Royal Birmingham Conservatoire: Feilden Clegg Bradley Studios (West Midlands)
Shaftesbury Theatre: Bennetts Associates (London)
Sibson Building, University of Kent: Penoyre & Prasad (South East)
St Augustines Church: Roz Barr Architects (London)
St David's Hospice, New InPatient Unit: KKE Architects (Wales)
Storey's Field Community Centre and Nursery, University of Cambridge: MUMA (East)
Storyhouse, Chester: Bennetts Associates with Ellis Williams (North West)
The David Attenborough Building, University of Cambridge: Nicholas Hare Architects (East)
The Department Store: Squire and Partners (London)
The Leadenhall Building: Rogers Stirk Harbour + Partners (London)
The Piece Hall and Calderdale Central Library and Archives: LDN Architects (Yorkshire)
The Sultan Nazrin Shah Centre, Worcester College, University of Oxford: Niall McLaughlin Architects (South)
University of Birmingham Indoor Sports Centre: Lifschutz Davidson Sandilands (West Midlands)
University of Roehampton Library: Feilden Clegg Bradley Studios (London)
Victoria & Albert Museum Exhibition Road Quarter: AL_A (London)
Victoria Hall King's Cross: Stanton Williams (London)
Walthamstow Wetlands: Witherford Watson Mann Architects (London)
West Court Jesus College, University of Cambridge: Niall McLaughlin Architects (East)
Weston Street: Allford Hall Monaghan Morris (London)
White Collar Factory: Allford Hall Monaghan Morris (London)