Andy Reynolds adds delaying switch to UK mark would avoid sites running out of products
The boss of Rider Levett Bucknall has said the government should extend the transition period from the EU testing regime of materials to the new British system by two years.
The consultant has become one of the first firms to go public with the call, with chief executive Andy Reynolds warning there was not enough time to fix the issue before the grace period comes to a close at the end of this year.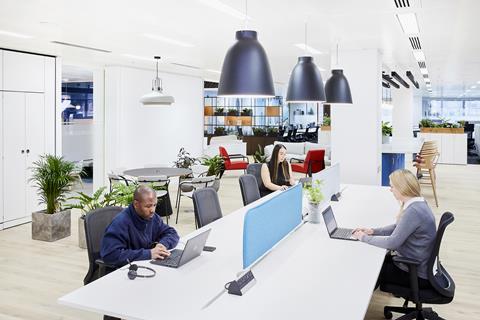 CE markings, which have certified products across a wide array of sectors in Europe since 1985, will be replaced with the UKCA mark as part of a regulatory divergence agreed in last year's Brexit deal. The UK is currently using both markings until 31 December this year.
Only UKCA markings are planned to be used from the start of next year, meaning that thousands of construction products will have to be retested in UK facilities to obtain the new certifications at costs of up to £50,000 per test.
But Reynolds said time was running out to complete these and so avoid more headaches over materials which are being hit by a series of shortages because of a global construction boom.
He added: "I do seriously hope they extend it. Two years would be the desired time frame.
"It's a really big issue and we [the industry] will overcome it and resolve it. But an extension allows us time to analyse where the issues are and build capacity."
Peter Caplehorn, chief executive of the Construction Products Association, has previously warned the UK does not have all of the testing and certification ability and capacity to complete the switch to the UKCA mark – meaning industry runs the very real risk of certain products falling foul of the new rules such as radiators, specialist glass, concealed hinges and adhesives.
Reynolds said an extension would ensure sites don't suddenly see a swathe of products become unavailable from the start of next year. "[An extension] gives us the necessary breathing space for it to settle down," he added.
He said the issue was being compounded by the ongoing materials shortages which have been hitting the industry since the start of the year.
Reynolds added that RLB has been talking to manufacturers of cladding, white goods and ironmongery about slots for when products will become available.
"It feels unprecedented," he said. "I've not experienced anything like this before. I can see this issue going on into next year. This is about global capacity. Even though our industry remained open, products and distribution suffered during covid."
Reynolds was speaking as the firm said its unaudited accounts were showing turnover down 9% to £74m in the year to April. Pre-tax profit was up to around £5m, a margin of around 6.5% and an increase on last year's 4%.
RLB is targeting revenue of around £85m this year and margins of 7% with Reynolds adding the firm was looking to significantly increase its infrastructure work from around the current 10% of business to up to 30% within five years. Other growth areas, he added, include tech and life sciences.
The firm recently opened new offices in Belfast and Cardiff and Reynolds admitted it was mulling an office in Scotland. It moved its London office from Liverpool Street into the Salesforce Tower, formerly the Heron Tower, on Bishopsgate last November where it has room for around 115 people.
RLB, which opened a registered office in Amsterdam last year called RLB Europe to ensure it had frictionless access to EU markets following Brexit, employs 710 people in the UK with the firm expecting to bring in up to 60 more this year.