Volume housebuilders are not doing enough to alleviate the UK's housing crisis, says architect
Richard Rogers has criticised house builders for not doing enough to sort out the country's housing shortage.
He said the planning process was not to blame for the problems but instead said developers were continuing to sit on parcels of land which have planning permission.
"The number of houses with planning permission in London has doubled in the past 10 years but the pace of development has remained static," he said. "This means challenging the monopoly of the big housebuilders, who are making good money through the system as it is and have no incentive to speed up."
He was speaking at the launch of Rogers Stirk Harbour & Partners' flatpack homes initiative called Y:Cube, which has involved putting up 36 units in south London for the YMCA charity.
He said: "YMCA are a prime example of how new participants can enter into the housing market, as great charities like Peabody did in the 19th century and can make the most of new technologies like Y:Cube rather than sticking to a superannuated business model."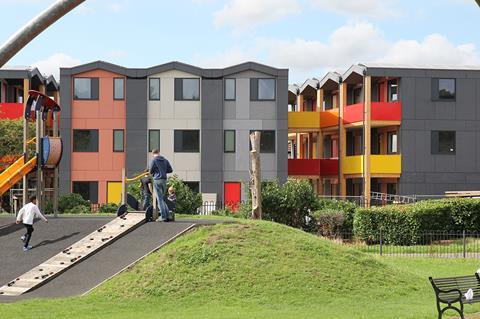 The apartments are being rented out at 65% of the market rate in the area and Rogers said more affordable housing needed to be built across the country "so that we can preserve the mix of people that makes our cities great".
He added: "We also need to let local authorities build more, so that they can make the most of their landholdings and create the communities that we need, ploughing value back into building more affordable and social housing, rather than seeing it spirited away as profit or capital gains for overseas investors."
His comments come as the firm waits to find out whether its £400m Neo Bankside luxury apartments complex behind the Tate Modern in London wins next month's Stirling Prize.
At the time it completed in 2012, the developers said 85% of the 217 flats – which were being sold for up to £5.25m – had been bought by buyers from 24 countries.
Planning authority Southwark council was criticised after it allowed the developers to go back on their commitment, made when they were granted planning permission, to include 34 shared-ownership units in the scheme.
Instead they were allowed to pay £9m towards 44 social housing units elsewhere in the borough.
Source
This story first appeared on Building Design