In first major speech energy secretary says eco technologies need to "stand on their own two feet"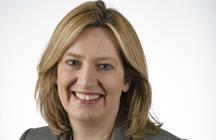 Energy secretary Amber Rudd has attacked policies that encourage a "permanent reliance on subsidy" after axing a number of low carbon and renewable energy schemes in recent weeks.
Her comments come after the Department for Energy and Climate Change (DECC) announced yesterday it has stopped funding for Green Deal due to a low take-up and concerns about industry standards.
This followed the department's decision the day before to scrap subsidies for new and existing small scale solar farms, and comes after DECC also stopped funding for new onshore wind farms.
Addressing business leaders in the City in her first major speech as energy secretary, Rudd (pictured) said the government is "committed to taking action on climate change" and added that it will push for a "strong, ambitious, rules-based agreement that makes the shift to a clean global economy irreversible" at the climate change summit in Paris this December.
Despite axing several schemes recently, the energy secretary said the government can "provide the support" needed for low carbon technologies, "but that support must help technologies eventually stand on their own two feet, not to encourage a permanent reliance on subsidy."
Rudd called for a market-based approach to tackling climate change and said: "Climate action is about security, plain and simple - economic security."
She added: "The bottom line is this - if we are acting on climate change to preserve our economic prosperity, we have to make sure that climate change action is pro-growth, pro-business."
Rudd confirmed existing investment in renewable energy schemes would be protected, while DECC confirmed the energy company obligation (ECO) will not be affected by the Green Deal announcement.