Gateway building is first phase of 10 to 20 year project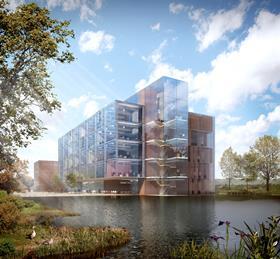 Ryder Architecture has been appointed to design the gateway building for the Thames Valley's first science park.
The practice will design the 5,000m2 gateway building, which forms part of the science park's first phase of three buildings that will contain a total of 18,000m2 of serviced offices, laboratories and communal spaces. The project is being built on a speculative basis.
The entire science park scheme is due to complete in phases over the next 10 to 20 years.
Ryder's success in winning the Gateway building commission follows the practice's recent completion earlier this year of a wing of Liverpool Science Park's Metropolitan Cathedral campus.
Gareth Callen, director at Ryder, said: "Our ability to design flexible spaces that anticipate change and can be tailored to lab, research or office accommodation is underpinned by a close working relationship with stakeholders ensuring we jointly create spaces fit for purpose, adaptable and future proofed for a generation of occupiers."