London mayor facing up to working with seventh housing minister
London mayor Sadiq Khan has said the government is not serious about tackling the capital's chronic housing shortage after Esther McVey yesterday became the sixth housing minister to leave the post on his watch.
Khan was elected in 2016 and is fighting for a second term in this May's upcoming mayoral election ahead of which he will begin working with his seventh housing minister, named last night as Christopher Pincher.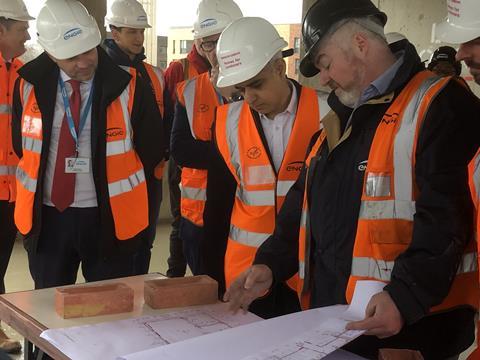 He told Building: "I'm annoyed and frustrated. [McVey's departure] demonstrates the lack of seriousness that the government has given to the housing crisis not just in London but across the country."
He added: "How is it possible for somebody who's in a job only for a few months to get to grips with the challenges, to have ideas and to carry them through?"
McVey, whose boss Robert Jenrick, secretary of state for housing, communities and local government, kept his job in yesterday's Cabinet reshuffle, admitted in a tweet: "I'm very sorry to be relieved of my duties as housing minister."
Khan admitted he had only met McVey, who was appointed in July last year and also became a champion for modern methods of construction, once during her time in the role.
He added: "I explained to her some of the challenges we face to make sure we're building the right sort of genuinely affordable homes that Londoners need to rent and to buy, to explain to her about how the cross-subsidy isn't working, and that we need far more investment in London."
The mayor was speaking as the mayor's office announced he was on track to hit his target of 17,000 new genuinely affordable homes in 2019/20.
But Andrew Boff, the Conservatives' housing spokesman at the Greater London Authority, said Khan had failed to deliver homes quickly enough. "This painfully slow progress means that Londoners are finding it harder than ever to get onto the housing ladder."
And Rory Stewart, the former Conservative government minister standing as an independent candidate in the London mayoral election, said the rate of building progress meant Khan was way behind promises made ahead of the last mayoral election in 2016.
Earlier this week, Stewart promised to build 250,000 homes in the capital within five years – and threatened developers with a 'use it or lose it' ultimatum on mothballed sites in order to meet that target.