But housebuilder says demand picking up after reopening sites last month
Housebuilder Taylor Wimpey's sales so far this year have fallen by 40% compared to last year due to the impact of the government's lockdown.
But the firm said in a trading update this morning it was seeing strong demand to visit its sales centres and show homes, had taken all of its staff off furlough and was now selling homes at a rate of 0.51 per site per week, well over half the normal rate.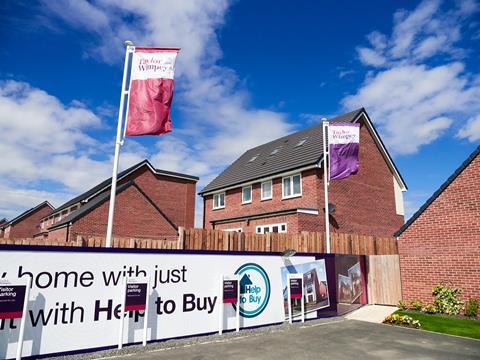 Taylor Wimpey, the third biggest UK housebuilder by volume, said it had sold 2,455 homes in the 22 weeks to 31 May, 61% of the 4,052 it sold in the same period in 2019. The sales rate of 0.51 achieved last week compares to a rate of 0.85 in the same week last year.
It said it had restarted work on the "majority" of its sites and unfurloughed all staff.
But it warned it was not expecting to achieve "meaningful production capacity" until the end of this month, saying its priority was "scaling up operations in a controlled, safe and responsible way".
The firm, which sold nearly 16,000 homes last year, said it had now opened the majority of its sales centres and show homes, adding that demand for visits by appointment was currently running at three times the level of last year.
Taylor Wimpey was the first UK housebuilder to announce it was closing all its sites in response to the government's coronavirus lockdown on 23 March and was among the first to reopen.
The news comes amid conflicting reports on the state of the housing and construction market. Yesterday the latest purchasing mangers' index from CIPS found that residential construction work was still falling in May, despite the many announcements by housebuilders they were reopening sites. The Construction Products Association has predicted a collapse in residential construction output of 42% for the year.
But property marketing websites have report high demand for housing, with Rightmove experiencing its busiest ever day last week in the wake of the government lifting housing market restrictions on May 12. The Nationwide building society said house prices fell by 1.8% in May, the steepest month-on-month fall for a decade.