EFA capital director Mike Green says new PF2 model not to blame for cut in privately-financed schools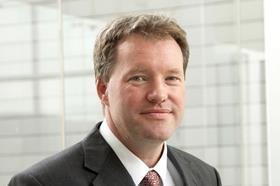 The capital director of the Education Funding Agency, Mike Green has blamed a "deterioration in the long-term debt markets" for a more than £1bn reduction in the privately financed element of the Priority School Building Programme.
Green (pictured) denied that the reduction in the £1.75bn PF2 element of the programme to just £700m was caused by a negative reaction by potential investors in the PF2 model, launched by the chancellor George Osborne in December last year to replace the controversial PFI funding system.
The EFA said today that the private funding would be replaced by direct capital funding from government, albeit that confirmation of £750m of this direct funding would have to come from the summer spending review.
Green said: "Of course we talk to people [in the market], I think the deterioration in the debt and funding markets is clear. In response to that launching the five privately funded batches, as we have today, represents a prudent programme."
The EFA had earlier confirmed that the private funding would be brought in via a financial "aggregator" procured separately from the schools' construction consortiums. This will sit above all the £700m of individual projects, replacing the senior debt traditionally raised by PFI consortiums.
Green said that this "aggregator" model had been adopted because of the deterioration in the market for long-term debt funding, but that because the model was new it made sense to test it at a smaller scale. He said: "Without the aggregator we're not confident we would have been able to get the funding for each individual batch away."
Asked whether the difficulty in fund-raising was down to the introduction of the new PF2 model, Green said: "No, not at all, the two things are not necessarily connected. The PF2 model is actually more efficient and has opened up the possibility of using the aggregator model. We've had no negative market feedback about PF2."
He added he had a "high level of confidence" in the PF2 system. "There is a challenge to the market to help us to make this work."
The EFA said the procurement of a financial institution to run the aggregator would happen alongside the procurement of contractors for the first batch of PF2 schools in Hertfordshire, Luton and Reading. Green said the EFA's target was to get the aggregator deal signed "some months" before reaching financial close on the procurement of the batch.