Scottish government energy strategy aims to make oil and gas sector greener and use more thermal power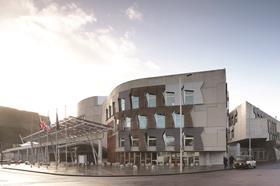 Scotland has set a target of sourcing half of its energy needs from renewables by 2030.
In a draft energy strategy outlining its plan to move away from oil and gas and become a low-carbon economy, the Scottish government said that by 2030 it wants 50% of its heat, transport and electricity consumption to be supplied from renewable energy.
The strategy is part of Scotland's plan to achieve its climate change targets, which requires an 80% reduction in greenhouse gas emissions between 1990 and 2050. The Scottish government has launched a consultation on the proposals, which will run until
30 May.
To help it achieve its targets, the Scottish government said it wants a strong oil and gas sector that supplies a skilled workforce, investment, research and development, and critical infrastructure to ease the transition to a decarbonised energy system.
It is also looking to use carbon capture and storage projects, which were axed in England after the Treasury pulled funding last year for two trial schemes, as well as increased network interconnection and energy storage, and new thermal electricity generation.
Explaining how a strong oil and gas sector can also help renewable energy in Scotland, in a ministerial foreword to the strategy, Scottish energy minister Paul Wheelhouse said: "Our ambition is that these strengths should also provide the engineering and technical bedrock for the transformational change in Scotland's energy system over the coming decades."
The strategy also pledges a "renewed focus" on energy efficiency with plans to make all domestic and non-domestic buildings in Scotland zero-carbon by 2050 where it is "technically feasible and practical".
It comes after the requirement for domestic buildings to be zero carbon by 2016 and non-domestic buildings by 2019 was axed in England without consultation in July 2015.
Environmental campaigners WWF Scotland welcomed the 50% target, and said it "sends a strong message to business and industry, both here and globally, that Scotland plans to build on its amazing progress on renewable electricity in the heat and transport sectors".
It added that a transitioning to renewable energy will provide "many social and economic benefits" and said: "Research shows that generating half of our energy from renewables by 2030 is both necessary and achievable."