Private residential the best performer, according to Glenigan data
Clients were given approval to push ahead with nearly £107bn worth of work in 2020, according to the latest data from information specialist Glenigan.
The figures (see below) reveal the most work was awarded in the private housing sector, with firms here receiving approval for schemes worth just over £37.42bn – or around 35% of all work awarded in the year.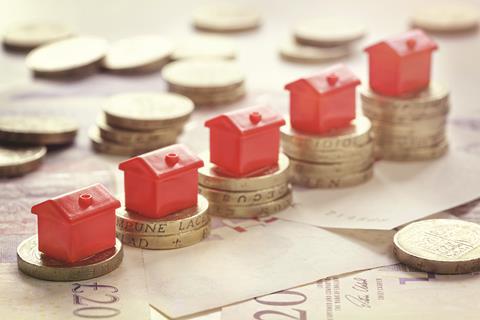 The top client in this sector was a team featuring Dartmouth Capital Advisors, London Borough of Richmond Upon Thames and Reselton Properties, which received the nod for one deal worth £1.25bn – the redevelopment of the Stag Brewery in south-west London.
The client receiving the most approvals across all sectors was the Department for Transport, which was given permission for 20 projects worth £4.8bn.
The sector to receive the next highest value of approvals was hotel and leisure, with clients here given permission for £10.5bn of work.
This was followed by those in the industrial sector, at £10.4bn, and commercial clients being approved for £10bn worth of work.
Meanwhile, the data has also revealed the top spending clients for December.
Britishvolt was the single biggest spending client at £2.6bn. This was the deal it struck with ISG to build its battery gigaplant in Blythe, Northumberland.
The sector with the highest was industrial – largely due to the Britishvolt deal. Overall, clients in this sector awarded £3.03bn of work.
The next biggest spending sectors were infrastructure, at £1.5bn, and private housing at £895m.
In total, almost £8.1bn of work was handed out in the last month of 2020.
Clients with the most project approvals - 2020
The tables below show contract awards by sector for the whole of 2020 put together by Glenigan. They are just a small part of the client information that is accessible through the Building Boardroom Network.
The Building Boardroom Network is an easy to use portal where you will be able to access a wide range of vital business insight including research and tools to help bring your construction clients to life. Find out more at: https://www.building.co.uk/building-boardroom/

Social housing
| Ultimate Company Name | Total Number of Projects | Total Value of Projects |
| --- | --- | --- |
| Catalyst Housing Group/Redrow | 1 | £405m |
| West Sussex County Council | 2 | £201.5m |
| Clarion Housing Group/Hill Partnerships | 1 | £200m |
| Guildford Borough Council | 2 | £159.1m |
| Aspbury Planning/Leicester University | 1 | £150m |
Retail
| Ultimate Company Name | Total Number of Projects | Total Value of Projects |
| --- | --- | --- |
| Daejan Holdings | 1 | £300m |
| Bolton Metropolitan Borough Council | 1 | £250m |
| Land Securities Group/LS Buchanan | 1 | £200m |
| Intu Properties - In Administration | 1 | £168m |
| Urban Reef | 1 | £150m |
Private housing
| Ultimate Company Name | Total Number of Projects | Total Value of Projects |
| --- | --- | --- |
| Dartmouth Capital Advisors/London Borough of Richmond Upon Thames/Reselton Properties | 1 | £1.25bn |
| Conygar/Nottingham City Council | 1 | £1bn |
| Long Harbour | 1 | £1bn |
| Barratt Developments | 62 | £675m |
| Bellway | 57 | £655m |
Offices
| Ultimate Company Name | Total Number of Projects | Total Value of Projects |
| --- | --- | --- |
| Grosvenor Group | 1 | £500m |
| Scottish Enterprise | 1 | £365m |
| London Borough of Barking & Dagenham | 1 | £300m |
| Quinn Estates/The Creative District Improvement Company | 1 | £250m |
| Legal & General Group Plc/Sky UK | 1 | £230m |
Medical & scientific
| Ultimate Company Name | Total Number of Projects | Total Value of Projects |
| --- | --- | --- |
| Department of Health | 121 | £1.6bn |
| Abertawe Bro Morgannwg University Local Health Board | 1 | £251m |
| Sanders Senior Living | 1 | £91.7m |
| The James Hutton Institute | 1 | £62m |
| United Kingdom Atomic Energy Authority | 3 | £47.5m |
Industrial
| Ultimate Company Name | Total Number of Projects | Total Value of Projects |
| --- | --- | --- |
| Four Ashes Ltd/Kilbride Group | 1 | £662.3m |
| Huawei | 1 | £400m |
| South Tees Development Corporation | 1 | £393m |
| Peel Holdings Group | 2 | £327m |
| Henry Boot | 5 | £284.9m |
Hotel & leisure
| Ultimate Company Name | Total Number of Projects | Total Value of Projects |
| --- | --- | --- |
| Armila Capital Limited/London Resort Holding Company | 1 | £3.5bn |
| PRIME Investors Capital | 1 | £500m |
| Valley Ridge Holdings | 1 | £500m |
| City Football Group/Oak View Group | 1 | £350m |
| Dominvs Group | 4 | £328.9m |
Education
| Ultimate Company Name | Total Number of Projects | Total Value of Projects |
| --- | --- | --- |
| Cranfield University | 2 | £414m |
| Department for Education | 32 | £324m |
| Institute of Neurology/University College London | 1 | £281.6m |
| The Hive Fitness Centre | 1 | £125.2m |
| University of Chester | 1 | £100m |
Civil (infrastructure)
| Ultimate Company Name | Total Number of Projects | Total Value of Projects |
| --- | --- | --- |
| Department for Transport | 20 | £4.8bn |
| East West Rail Alliance/Network Rail | 2 | £403m |
| Network Rail | 42 | £354m |
| Cornwall Council/Department for Transport | 1 | £290m |
| Norfolk County Council | 3 | £274.6m |

* private housing awards data refers to external contracts only and does not include frameworks
** projects awarded by a joint venture are listed independently to both single party clients